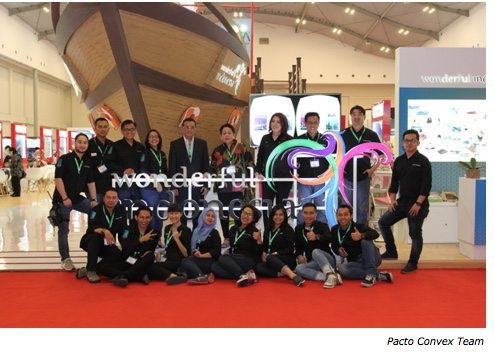 PACTO at IMEX: Why Meetings, Incentives, Conventions and Exhibitions (MICE) in Indonesia are for PACTO?
Pacto Convex from Indonesia will present at the international trade fair IMEX in Frankfurt 2018 from 15th to 17th May. PACTO is one of the longest and best-known and established event organizer and inbound operator for Indonesia. As a Professional Organizer for Meetings, Incentives, Conventions and Exhibitions (MICE) to international associations and influential meeting planners around the world, Pacto Convex will be at Indonesia Pavilion together with Indonesian Tourism Ministry and other meeting industry partners from Indonesia.
Susilowani Daud, President Director of Pacto Convex said, "Joining IMEX in Frankfurt shows our commitment to engaging in the meetings industry worldwide. This will enable us to showcase our excellent portfolios as well as long-standing experience as Professional Convention Organizer (PCO) to global meeting industry and enhance the number international business events in Indonesia. This is the second time we participate at IMEX in Frankfurt."
"As the worldwide exhibition for incentive travel, meetings and events, IMEX in Frankfurt is an ideal opportunity for us to build on the strong interest and connections that we have created among influential meetings planners from around the world, especially within international associations, to meet them and show them the many superb facilities that Indonesia can offer. Moreover, Pacto Convex has also become the member of International Congress and Convention Association (ICCA) since 1993," Susilowani explained.
"As Indonesia will be hosting the International Monetary Fund – World Bank Group Annual Meetings this year in Bali on 8th to 14th October, we proudly say that Pacto Convex is the leading PCO of this internationally influential event on economy and finance with over 15,000 participants from 189 countries to attend. This is going to be the largest international event in our portfolio after the United Nations Framework Convention on Climate Change (UNFCCC) in 2007 in Bali with 10,000 delegates worldwide. Other events we organize this year also include international association events, namely the 10th World Implant Orthodontic Conference (WIOC) 2018, 16th Asia Pacific Congress of Pediactrics (APCP) 2018, The 12th Asia Pacific Conference on Tobacco or Health (APACT) 2018, The 25th ASEAN Federation of Cement Manufacturers (AFCM) Technical Symposium & Exhibition, and still many more," Susilowani concluded.
For more information about Pacto Convex, please visit www.pactoconvex.com