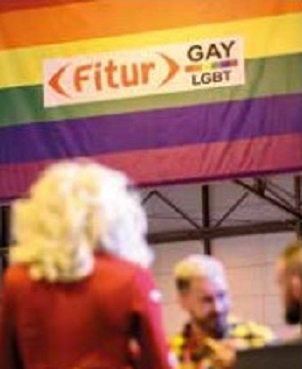 New York, Thailand, Portugal and the Basque Country land at FITUR GAY (LGBT+)
The section dedicated to LGBT+ tourism continues to be strengthened with growing numbers of exhibitors and co-exhibitors (this year, more than 200), new tourism products and more business volumes. This segment, which makes up more than 10% of tourists worldwide, is responsible for almost 16% of total travel expenditure, spending more than $195 billion annually, according to the World Travel & Tourism Council.
Visually, the first change is seen this year in the name: the '+' sign has been added to the LGBT acronym, in recognition of other orientations. The motto '50th Anniversary Stone Wall New York' has been chosen to commemorate the events that took place in New York in 1969 when 500 people gathered for a "Gay Power" demonstration, which kick-started the movement for gay rights.
eTN Chatroom: Discuss with readers from around the world:
---
Juan Pedro Tudela, co-founder of Diversity Consulting International (co-organisers of this section), is delighted with the presence this year of New York, which FITUR has chosen to kick off celebrations for World Pride 2019 (which will be held in the Big Apple) and the 36th IGLTA World Convention. But let's not forget that Spain (followed by the United States) is strongest destination in the world in this tourism segment.
In addition to New York, Tudela also highlights the incorporation of Portugal and Thailand in this year's edition. He recognises also the effort of Argentina's return to the trade show, as well as the presence of Colombia. In terms of Spanish destinations, he stresses the growing interest in the Basque Country, which has its own space in FITUR GAY (LGBT+) and Valencia, which has increased its number of stands in the section, while LGBT Seniors will highlight Benidorm, Torremolinos and Gran Canaria.
Presentations of destinations and round tables will be attended by experts and personalities from the world of politics; while the 50,000 people that visit this section every year can enjoy entertainment such as the musical The Young Frankenstein. The big closing party for exhibitors and guests of FITUR GAY (LGBT+) will take place at the Axel Madrid hotel.
The happenings in this section will be covered by various radio stations, such as Radio Internacional and Onda Pride, and the television channels Gayles TV and Gay Link.
New York kicks of its big LGBT year
New York will host World Pride 2019 and, for the first time, the IGLTA (International Gay & Lesbian Travel Association) Annual Global Convention, whose theme revolves around uniting tourism professionals to work together to create a more inclusive world for LGBTQ travellers. From April 24th to 27th, the convention coincides with the celebration of the 50th anniversary of the movement known as Stonewall, which began as a rejection of homophobic police raids in the city.
Over the three days, a wide educational and networking program will be developed, which includes entrepreneurship forums for small businesses, receptions and events for the media. John Tanzella, CEO of IGLTA, considers it "an event that unites the leaders of our industry around one common goal: to improve the conditions for LGBTQ travelers."