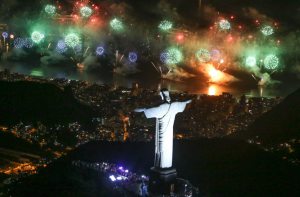 New Year in Rio De Janeiro: 2.4 million happy tourists and locals had a the greatest 'Réveillon' of all times
Where was the best New Year party in the World? At Times Square New York in below zero temperature or on a sunny summer beach day in Rio De Janeiro with 2.4 million happy tourists and locals going wild
On Sunday, December 31st, 2.4 million people gathered on Copacabana's beach to welcome 2018. According to Riotur, this is the largest audience ever registered in Copacabana's New Year's Eve celebration, considered one of the best in the world.
Cariocas and tourists of all ages had the opportunity to enjoy a seventeen minute pyrotechnic spectacle (five minutes longer than 2017's) and an eclectic line-up with ten musical attractions, which included Brazilian funk accompanied by "Orquestra da Maré", orchestra composed of young musicians from Complexo da Maré favela community, in Zona Norte (North Zone).
"This was definitely the greatest 'Réveillon' of all time. It became historical. We are really proud to have produced this spectacular event," said Marcelo Alves, the president of Riotur, which was expecting three million to attend Copacabana's party.
Opening 2018 in style, singer Anitta went up on the stage a few minutes after midnight, following the classic fireworks' show. As the most expected attraction of the night, Anitta's show stood out for its impeccable production and hypnotizing choreographic performances. Among the favorite songs presented on the stage, "Vai, Malandra", Anitta's latest hit, drove the audience crazy, having included the participation of "Orquestra da Maré".
"This was not my first time at Copacabana's New Year's, but definitely an unforgettable one. People singing and shaking along with Anitta was so much fun!," said Angelica Lopez, Argentinian audiovisual producer who has lived in Rio for nine months.
According to Rio's city officials, this was the first New Year's Eve in Copacabana to use security cameras monitored by the City Hall's Video Patrolling Center. Still however, local news outlet Jornal O Globo claims that Rio's Guarda Municipal and the Military Police registered four crimes at the Copacabana beach.
Additionally, despite the presence of 1,822 military police officers in Copacabana, spectators reported to O Globo to have witnessed countless episodes of robbery in the neighborhood.
This New Year's Eve, COMLURB, Rio's urban waste company, collected a total of 653,56 tons of garbage in the city, five more than last year. In Copacabana, however, the waste production decreased from 290 tons to 285.65 tons, comparing to 2017.
As reported by Riotur, Rio's 2018 New Year's, including Copacabana's and nine other celebrations, hosted approximately 910,000 tourists, responsible for bringing R$2.3 billion into Rio's economy.