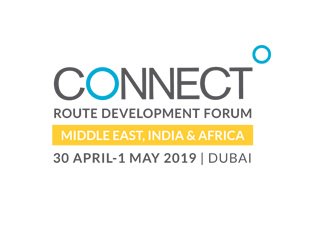 New aviation show launches in Dubai
Reed Travel Exhibitions (RTE), organizer of the annual Arabian Travel Market (ATM) showcase in Dubai, has boosted its travel portfolio, having signed a collaboration agreement to launch CONNECT Middle East, India & Africa 2019 – a new route development forum.
The two-day show will be co-located with Arabian Travel Market 2019 and will take place at the Dubai World Trade Centre on Tuesday 30th April and Wednesday 1st May (day three and four of ATM).
Emirates will be the official airline partner – with Emirates Networking Planning team attending the show – while Emaar Hospitality Group will be the official hotel partner – both of which will offer preferential rates exclusively for delegates attending the show.
Nick Pilbeam, Divisional Director, Reed Travel Exhibitions: "The Middle East's aviation market is forecast to grow five per cent annually until 2036, according to IATA. It is predicated that the sector will witness an extra 322 million passengers a year on routes to, from and within the region – with the total market size expanding to 517 million passengers over this period.
"The sector is expected to contribute nearly AED 200 billion to the UAE's economy by 2020, providing up to 750,000 jobs.
"Moreover, the aviation industry is a crucial economic pillar for Dubai, accounting for more than 27 per cent of Dubai's GDP, or $26.7 billion, according to Oxford Economics. This is expected to increase to 37.5 per cent by 2020 with a total annualised impact of $53.1 billion."
CONNECT Middle East, India & Africa 2019 is expected to bring together airline specialists, aviation authorities, tourism boards, airports and tour operators, as well as other travel-related industry professionals.
With up to 400 delegates, the structure of the vertical event will include unlimited one-to-one pre-scheduled appointments, a conference programme, panel discussions and airline & industry briefings as well as an exhibition area dedicated to airports and suppliers.
"Being the world's largest travel event organiser, with shows on all continents, our collaboration with The Airport Agency will bring the entire tourism supply chain together, providing huge strategic commercial opportunities for aviation professionals, particularly those specialising in airport route development, networking planning and procurement," Pilbeam added.
CONNECT has already held events around the world, the most recent being CONNECT in Georgia which brought together over 500 aviation decision makers including more than 65 airlines and represented 250 airports to discuss current and future air transport links, route development plans as well as addressing topical issues and challenges and identifying and capitalising on emerging trends.
Commenting on The Airport Agency's collaboration with Reed Travel Exhibitions, Karin Butot, CEO, The Airport Agency, said: "CONNECT Middle East, India & Africa is set to deliver a unique networking platform for airports, airlines and tourism to meet and network alongside ATM, the largest international travel event in the region which celebrated its 25th anniversary last year.
"As more and more airports are working in synergy with their destinations to explore and secure new airline services, CONNECT Middle East, India & Africa will deliver exceptional opportunities in an established, highly-productive format, thus making the show the only aviation route development event in the region for both inbound and outbound travel, connecting senior aviation professionals with airlines and airports all over the world."
Dubai International Airport was the busiest international airport measured by total passengers for the fourth consecutive year, as it welcomed six new carriers in 2017 and opened 12 new routes for 2018.
The airport served 88.2 million passengers in 2017, an increase of 5.5 per cent from 2016, Dubai Airports said in a statement. Traffic this year was forecast to grow 2.4 per cent to 90.3 million.
Propelled by a partnership between Emirates and sister low-cast carrier flydubai, growth is expected to continue in 2019 as the momentum gathers in the build up to Expo 2020, when 25 million visitors are expected.