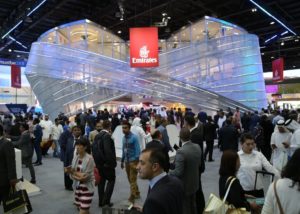 Middle East airline passenger numbers projected to climb 7% in 2018
Middle East passenger numbers are forecast to grow by 7% in 2018 according to the International Air Transport Association, despite a strong headwind of global economic turbulence and fluctuating oil prices, the unpredictability of American President Donald Trump and continued Brexit negotiations.
Aviation will feature heavily in the programme at Arabian Travel Market (ATM) 2018, which is being held between 22-25 April at the Dubai World Trade Centre. The sessions at ATM 2018 will be moderated by Alan Peaford, a former national newspaper journalist and current president of the UK's Institute of Internal Communications. Peaford edited Flight International's Flight Daily News for 17 years and has won an Aerospace Journalist of the Year award on five occasions.
He said: "Aviation and aerospace is thriving despite lower oil prices. Even with regional uncertainties aviation continues to grow. The Arab air transport market grew by 9.9% in the past year, according to the Arab Air Carriers Organisation (AACO) at its 2017 AGM. Growth figures like these should support lively debate at ATM 2018 and provide an element of cautious optimism."
IATA figures also revealed that Middle East airlines will see net profits doubling to $600 million in 2018, double what they are estimated to make this year. Passenger capacity is also estimated to rise by 6.6% this year and a further 4.9% increase is forecast for 2018.
The Emirates Group which is, one of Arabian Travel Market's premium partners, had a revenue of AED49.4 billion (US$13.5 billion) for the first six months of its 2017-18 financial year, up 6% from AED46.5 billion (US$12.7 billion) during the same period last year.
However, Etihad Airways bucked the trend in July when it posted a group loss of AED6.86 billion ($1.87 billion) for 2016. The figure was heavily influenced by one-off impairments that included AED3.67 billion ($1 billion) on aircraft and AED2.96 billion ($808 million) on exposures to the ailing carriers Alitalia and Air Berlin.
Air Arabia saw profits rise in this year's second quarter, up 21 percent to AED157.93 million ($43 million) from the same period last year, although revenues were flat, rising 1.3 percent to AED907.23 million ($247 million). But Flydubai reported losses of AED143.24 million ($39 million) on revenues of AED2.5 billion ($689 million) for the first half of 2017
Simon Press, Senior Exhibition Director, Arabian Travel Market, said: "As this mixed bag of results demonstrate, there are continued challenges to be faced by the aviation sector in the Middle East. This includes the US Supreme Court's decision to back President Donald Trump's third travel ban, blocking the entry of travellers from Chad, Iran, Libya, Somalia, Syria and Yemen.
"President Trump's protectionist agenda may also impact the Open Skies Agreement which US airlines have campaigned bitterly against for several years."
The success of the aviation industry in the sky is matched in the Middle East by the continued huge infrastructure investment.
The total value of 152 active aviation-related projects in the Middle East reached $57.7 billion (Dh211.8 billion) at the end of April 2017, according to research provider BNC Network.
In the GCC countries, Saudi Arabia accounted for the largest share of project value (at 46 per cent of the GCC's total), followed by the UAE (26 per cent), and Kuwait (12 per cent).
The Gulf region's aviation projects also accounted for 72 per cent of the total estimated value for all aviation projects in the Middle East and North Africa.
"Aviation is integral to the Arabian Travel Market show and plays a significant role not only during the seminars but also on the exhibition floor. With strong investment prevalent throughout the industry in the region, the growth in passenger numbers will continue unabated," added Press.
Confirmed exhibiting airlines for ATM 2018 include Etihad Airways, Fly Dubai and Saudi Airlines with more major players to follow.
ATM 2018 has adopted Responsible Tourism as its main theme and this will be integrated across all show verticals and activities, including focused seminar session, featuring dedicated exhibitor participation.
ATM – considered by industry professionals as a barometer for the Middle East and North Africa tourism sector, welcomed almost 40,000 travel professionals to its 2017 event, including 2,661 exhibiting companies, signing business deals worth more than $2.5 billion over the four-day show.
Celebrating its 25th year, ATM 2018 will build on the success of this year's edition, with a host of seminar sessions looking back over the last 25 years and how the hospitality industry in the MENA region is expected to shape up over the next 25.
-ENDS-
About Arabian Travel Market
Arabian Travel Market (ATM) is the leading, international travel and tourism event in the Middle East for inbound and outbound tourism professionals. ATM 2016 attracted almost 40,000 industry professionals, agreeing deals worth US$2.5bn over the four days.
The 24th edition of ATM will showcase over 2,500 exhibiting companies across 12 halls at Dubai World Trade Centre, making it the largest ATM in its 24-year history.
http://arabiantravelmarket.wtm.com/
ATM is part of Reed Travel Exhibition's World Travel Market events, which also includes WTM London, WTM Latin America and WTM Africa.
www.wtmworld.com