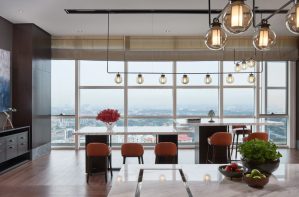 Malaysia Hotel Opening: New World Petaling Jaya Hotel
New World Petaling Jaya Hotel made its debut today as the first Malaysia property for New World Hotels & Resorts. The hotel is one of the tallest hotels in Petaling Jaya, conveniently located with direct access to a major highway route as well as in close proximity to the Kelana Jaya LRT station to offer all the conveniences of the city at its doorstep and easy connection to local business and leisure activities.
"We are delighted to unveil New World Petaling Jaya Hotel today, and to welcome international and domestic travellers alike." said General Manager Jai Kishan. "The hotel has been designed as a welcoming, residential-style home base to conduct business and discover the area's many attractions, the perfect venue to meet up with friends and professional associates, or a peaceful retreat to simply unwind and relax."
In celebration, an introductory opening package – "Style in The Sky", which includes a buffet breakfast for two persons at Pasar Baru and welcome cocktails at PJ's Bar & Grill, rooftop bar is available until 31 March 2018. Rates start from RM418 nett on weekends and RM438 nett on weekdays for double occupancy.
The "WAU" factor
Delightful design details await each guest who walks through New World Petaling Jaya Hotel's majestic entrance. Malaysian influence is present throughout the thoughtful interior design, a six-metre high "wau" (traditional Malaysian kite) sets an imposing structure at the lobby to the colossal three-metre "gasing" (traditional Malaysian spinning top) sculptures and well-curated local artworks greet guests upon arrival.
The 300-square-metre rooftop infinity-edge pool on 30th floor offers refreshing swims and sunbathing, while the whirlpool provides a relaxing and bubbly massage, all backdropped with a city panorama. A state-of-the-art fitness centre equipped with the latest treadmills, elliptical machines, stair climbers and free weights offer with sweeping views of the city is located on 29th floor.
The hotel's event facilities include a 1,700-square-metre pillarless grand ballroom accommodating up to 1,000 guests.