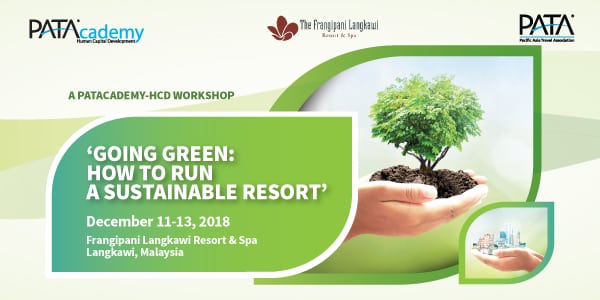 Learn the secrets of operating a sustainable resort
The 11th PATAcademy-HCD, under the theme 'Going Green how to run a sustainable resort', is set to take place at the award-winning Frangipani Langkawi Resort & Spa (FLGK) in Langkawi, Malaysia on December 11-13, 2018.
Organised by the Pacific Asia Travel Association (PATA), the latest programme focuses on the tools, resources, and business practices to accelerate the adoption of eco-friendly policies and practices among hotel operators through an interactive learning approach and hands-on assignments.
"Sustainability initiatives have shown to help organisations save money, enhance brand reputation, motivate employees, and increase goodwill with travellers. As environmental concerns and the popularity of eco-friendly practices continue to increase, many hotels – from the budget-friendly to the luxurious – are taking steps to make their practices and businesses more sustainable," said PATA CEO Dr. Mario Hardy. "The next PATAcademy-HCD in December provides the perfect opportunity for hotel owners, managers, and consultants to expand their own knowledge of sustainability, particularly as it relates to practices that provide the foundation towards building an eco-friendly or "green" resort and making a positive environmental impact."
The workshop will be led by sustainability experts from FLGK, which has been championing sustainable practices and environmental protection for the past thirteen years. Through the workshop, FLGK will share examples of practical, easy-to-adopt 'green' practices that can be applied at hotels, resorts, schools, and homes.
Anthony Wong, Group Managing Director, Frangipani Hotels & Resorts said, "This sustainable green hotel training programme is very compressed as we hope to show you real practical ways to save and add to the bottom line. You can experience and see how the workings and passive design saves operating costs. With over 200 ways that we have developed over 13 years, participants can easily use 25 practices back in their hotel to start off with. During the workshop, we will use ASEAN Green Hotel Standards as a base line in measuring sustainability and beyond, as well as the UN 17 Sustainable Development Goals."
The two-and-a-half-day workshop will provide participants with the practical tools and materials that will enable them to incorporate sustainable and responsible business practices in their hotel and resort, including access up to 300 green practices that can help save operating costs as well as the environment; identify sustainability and responsible business challenges within their organisations and how to address them; access practical materials to implement sustainability in hotels and resorts; understand how to utilise sustainability assessment, planning, and reporting tools; take home vital first drafts of an environmental resource inventory and assessment of environmental impacts; take home templates to design sustainability plans, policies, reporting, and marketing programmes for their organisations; receive networking opportunities with other industry professionals dedicated to sustainable and responsible tourism issues; network with industry experts from renowned organisations and gain the opportunity to visit an award-winning island resort.
The programme is designed for island operators and beach resorts, including hotel owners, green architects and engineers, landscape architects, general managers, green hotel consultants, green building consultants, government planners, sustainable consultants, hospitality schools & lecturers, eco-tourism operators, and consultants.
Participants that complete the course successfully are awarded a PATAcademy-HCD certificate entitled "Certified Asia Pacific – Sustainability in Eco Hotel and Resort".
The registration fee for PATAcademy-HCD is US$1,200 (single) and US$2,100 (Twin sharing) for PATA members, US$1,300 (single) and US$2,300 (Twin sharing) for Chapter members and US$1,400 (single) and US$2,500 (twin sharing) for non-members. Registration fee includes hotel accommodation for three-days and two-nights (check-in December 11 and check-out December 13; additional night is US$112.5/room/night for checking in December 10), training programme with materials and meals listed on official programme. Fee excludes air ticket and airport transfer.
For further information or to register for the programme, please visit: www.PATA.org/event/patacademy-hcd-dec or contact [email protected].