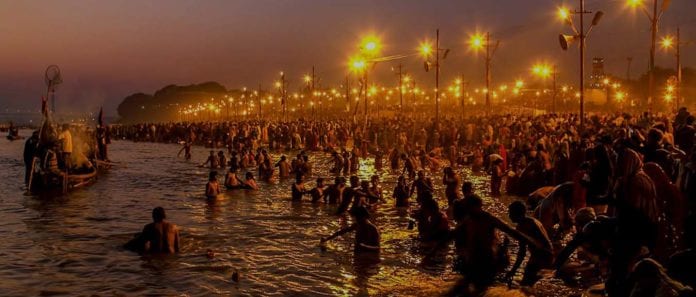 Kumbh Mela: Intangible Cultural Heritage of Humanity to boost tourism
It is listed by the UNESCO as an Intangible Cultural Heritage of Humanity, but that is only a small part of what the Kumbh Mela fair is known for. To be held in Allahabad from mid-January to mid-March, 2019, the 50-day event is expected to attract a whopping 25 million devotees and visitors to have a holy bath in the sacred sangam confluence of three rivers.
The spiritual value of the fair is well known by some logistical facts and infrastructure details gathered by this correspondent. It is an event sure to put any other gathering to shade or shame not only in the travel industry but in other areas as well.
Here are some of the mind-blowing figures, belief it or not.
Some Rs 15,000 crores are being spent to cater for the Mela, for which a separate district has been carved out in Allahbad and is now being renamed as Prayagraj.
A new airport terminal building is coming up, and Indigo has just linked Allabad with a daily flight to Bengaluru. Taking a holistic approach, 116 new roads are being built and refurbished. V Nata Raju, Chief Coordinating Officer of The Ultimate Travelling Camp (TUTC), which is coming up with 44 tented accommodations, revealed that 100,000 toilets are being built to cater to the expected 2 million visitors a day. As many as 20,000 dustbins will be in place to keep the area clean, and 150 tippers will ferry the garbage out throughout the day. The number of LED lights is 40,700, and 1000 CCTVs will be in place.
There will be 22 pontoon bridges, using 1795 pontoons. As many as 520 shuttle buses will be operated, and 84 parking places are being created. Signages, often a neglected area, are there – 2,000 of them.
The Ultimate Travelling Camp, built as the Sangam Nivas, will be located on a high vantage point, and will offer yoga sessions, discourses, an in-house astrologer, interaction with holy men, and individual puja, plus a walking tour of the akaras, where sadhus from all over the country will camp. Raju, who has much experience in this line, said that the guests at the TUTC will enjoy art at the camp temple.
The Kumbh is also expected to be visited by delegates coming for the Pravasi Bharatiya Divas as well as Non-resident Indians who will meet in Varanasi.
As many as 300 camps are expected to participate, including Divine Camps, which will seek to offer the pilgrims a spiritual and uplifting experience. But for sure it is also a challenge from the organizational angle.
Rajnish Sabharwal, Chief Operating Officer, said that their experience in running similar properties elsewhere will help in the Kumbh venture.
A mix of domestic and foreign clientele is expected.