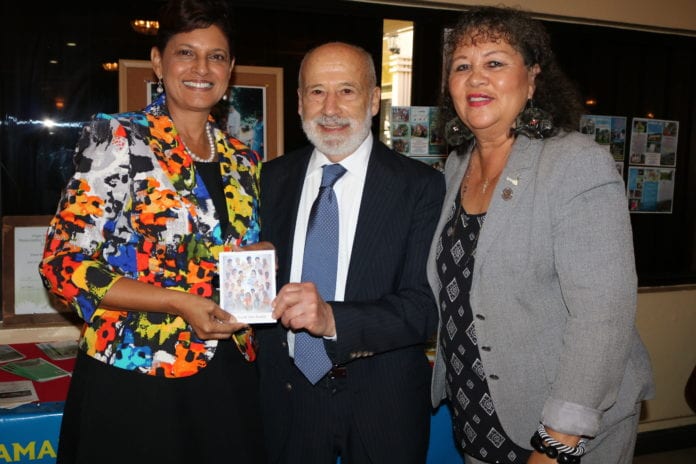 International Community Tourism Conference and Peace Through Tourism
The recently held International Institute for Peace Through Tourism (IIPT) International Community Tourism Conference themed: Building Communities as Businesses, was staged at Mona Visitor's Lodge, UWI, Mona, November 12-15, 2018 in Jamaica. The four-day event commemorates 2018 as the 'International Year of Community Tourism & Peace in collaboration with Countrystyle Villages as Businesses' which represents 40 years of Community Tourism.
The well-organized international conference was Chaired by Mrs. Diana McIntyre-Pike, President, Countrystyle Villages as Businesses and IIPT Caribbean and Co-chaired by Mrs. Gillian Rowlands, Vice President IIPT Caribbean, Master of Ceremonies and Mrs. Valerie Dixon, VP Countrystyle Villages as Businesses. The Conference was supported by title sponsors Compete Caribbean and Caribbean Tourism Organization (CTO), representing Caribbean governments. The International Conference was presented by IIPT International Community Tourism Network in association with Countrystyle Villages as Businesses, The University of the West Indies Open Campus, Making Connections Work Ltd UK, Diaspora Connect 2022, YES Foundation, Caribbean Centre of Excellence for Sustainable Livelihoods, National Best Communities Foundation and The UWI Mona Tourism Society.
Numerous case studies were showcased and community representative presenters, some of which are mentioned here: Barbados Community Tourism Network, Lopinot Countrystyle Community Tourism Network (Trinidad), Beeston Spring (Westmoreland), Manchester Peace Coalition (An IIPT endorsed project), Treasure Beach (First Village Home of Community Tourism), Marcus Garvey & Taino Heritage (Mandeville & Resource Village), Rastafari Indigenous Village and Charles Town Maroon Village (Portland). Displays of Villages as Businesses products were represented by Orange Bay, Beeston Spring, and Kitson Town, Resource Village and others which featured Agri-tourism Arts & Craft, Wellness & Music.
Outstanding presentations were well received from UWI lecturers Dr Carolyn Hayle, Dr. K'adamawe K'nife and Professor Ian Boxill, Vice Principal UWI and Chairman Countrystyle Villages as Businesses. Compete Caribbean/Caribbean Tourism Organization shared their community-based/sustainable tourism programme for the Caribbean region. Coldwell Bankers one of the main sponsors, Charles Town Maroon Council, Treasure Beach Community Tourism displays were just a few examples on exhibit.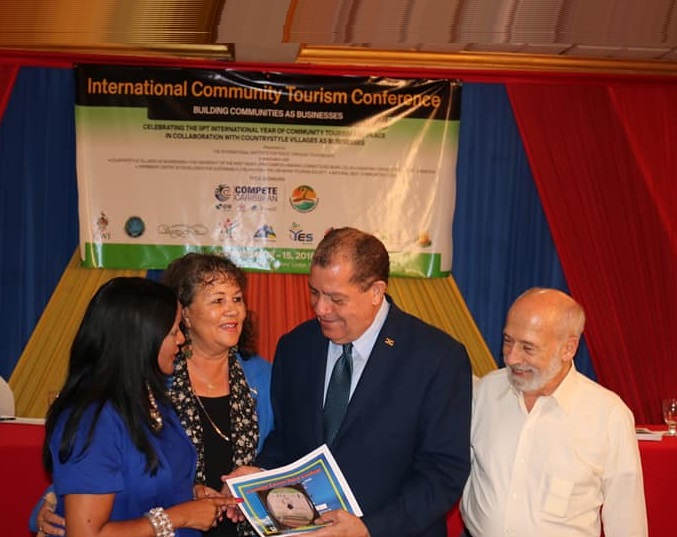 Dr. Louis D'Amore, Founder & President International Institute for Peace Through Tourism (IIPT) was the Opening speaker. His presence was impactful because he chose to attend the International Conference in Jamaica instead of the highly acclaimed World Travel Market in London. Days before the IIPT International Community Tourism Conference, Jamaica Tourism Minister, Hon. Edmund Bartlett was awarded the International Institute for Peace through Tourism (IIPT) "Champions in Challenge" Award honoring leaders who have overcome exceptional challenges exhibiting leadership in their words & deeds on November 8, 2018 in London.
Dr Luz Longsworth, Pro Vice-Chancellor and Principal of the UWI Open Campus gave the official welcome to the Conference where she shared their commitment to community tourism in partnership with the Countrystyle Academy for Community Tourism (ACT) with the Community Tourism Hospitality Entrepreneurship training programme and other initiatives for educating communities in Jamaica and the Caribbean region.
The Conference Welcome Reception was sponsored by Spanish Court Hotel in Kingston, which featured Theo Chambers, CEO, Panacarib Business Solutions and guest speaker Alexander Pike, General Manager, the new R Hotel in Kingston who shared the proposed Community Tourism programme for Kingston.
Community Tourism pioneer, Diana McIntyre-Pike's opening statement called on communities to become independent through entrepreneurship, education and training. Community lifestyle experiences, 'pick a project and 'adopt a project' adds value to visitor experiences. "People don't want something set up for visitors, they want to enjoy us as Jamaican people." She continued in saying "this conference was an important one to show the economic benefits of developing rural and urban communities as businesses to promote and attract investment opportunities for local entrepreneurs in their own environment through training and education, which we can provide from the Academy for Community Tourism (ACT) in partnership with the UWI Open Campus." She concluded in thanking the UWI Open Campus for granting the Community Tourism Hospitality Entrepreneurship training programme accreditation by UWI Open Campus.
During the early part of his speech, Dr. D'Amore took the opportunity to highlight Diana McIntyre-Pike's illustrious achievements in Community Tourism, reflecting on how she branded 'community tourism' along with her late Community Tourism partner Desmond Henry. He spoke of her numerous awards totalling over 30 some which include appointment by the Jamaican government to the Order of Distinction for Tourism and Community Service, Virgin Holiday Responsible Tourism Award at World Travel Market for the Best Personal Contribution to the world jointly with TUI and IIPT Lifetime Achievement Award.
The Man of Peace, Dr. D'Amore, recounted a history of wars and conflict on the planet noting "as of 2015 there were 50 ongoing conflicts in the world and it is estimated that 90% of current war casualties are civilians, the majority of whom are women and children". Led by the conviction of no more wars, Dr. Amore has passionately engaged in activities to increase peace parks with the goal of 2000 international peace parks circling the earth by Nov. 11, 2020. Over the years, IIPT has continued to dedicate peace parks as a legacy at international conferences. He highlighted when Mandeville Jamaica became the first IIPT Peace Town with the first Peace Park in the Caribbean in 2013, along with Treasure Beach as the first IIPT Peace Village and Peace Park.
In conclusion, D'Amore left the audience with this thought: "The tourism industry with its global presence has the potential to help preserve the world's biodiversity as an integral part of God's creation to facilitate the connection and positive interaction among all of God's children particularly through Community Tourism."
Key Conference Outcomes.
Audley Shaw, Minister of Industry, Commerce, Agriculture & Fisheries, presented a powerful speech as keynote on Tuesday, November 13. Diana McIntyre-Pike said on the same day in a Radio interview with Dervan Malcolm, "He said that he is going to facilitate getting everyone to work together across industries to get community tourism integrated in Jamaica." The Minister told the audience comprised of tourism stalwarts, private sector businesses, university students and community tourism entrepreneurs: "Think seriously about it, organize properly and guess what? The potential for a proper well-structured system is right here in this room. 'The journey of a thousand mile begins with the first step' and you have taken that step long ago. Now you need a government that is going to give you the support that you need to make Community Tourism successful. Because of the wide range of my portfolio, I will use that as the point of departure to argue with the Minister of Tourism, the Prime Minister, with the Cabinet that we need a proper well-structured policy on Community Tourism. (Loud Applause) That is my commitment to you!"
The UWI Mona Tourism Society featured in their presentation their commitment to launch the UWI Community Tourism Network in 2019 with the support of Countrystyle Villages as Businesses and the IIPT International Community Tourism Network. They assisted the conference as volunteers, which enabled them to learn a great deal more about community tourism.
Community Tourism Awards were presented to over 50 Community Entrepreneurs in Jamaica and the Caribbean which also included Dr. Louis D'Amore and Minister Audley Shaw in appreciation for his community business development and commitment to community tourism. In addition, Sharon Parris-Chambers, Wellness Consultant & founder of One Love Call to Action Campaign awarded Dr. D'Amore and Diana McIntyre-Pike the One Love Peace Ambassador Pledge for their long-standing contributions to peace through Tourism. She asked the audience to take the pledge and encouraged them to go online to subscribe to the campaign. www.Facebook.com/Onelovecalltoactionpledge.com
In charting the way forward, the programme had an open session for questions and answers coordinated by Ambassador Aloun Assamba, Patron, Countrystyle Villages as Businesses and past Minister of Tourism in Jamaica. The interactive session was recorded for further review. Papers and Pictures of the Conference will be posted to www.Accesscommunitytourism.com and www.peacetourism.org
It was proposed to organize a one-day public/private sector Community Tourism Retreat in 2019 to be facilitated by the Ministry of Industry, Commerce, Agriculture & Fisheries in association with the Ministry of Tourism, IIPT International Community Tourism Network, University of the West Indies and other community tourism organizations to pave the way forward for building communities as businesses.
Conference Source Documents:
Jamaica Tourism Minister meets with Louis D'Amore Founder of International Institute for Peace through Tourism
http://peacetourism.org/jamaica-tourism-minister-meets-with-louis-damore-founder-of-international-institute-for-peace-through-tourism/
About International Institute for Peace Through Tourism:
The International Institute For Peace Through Tourism (IIPT) founded 1986 is a not for profit organization dedicated to fostering and facilitating tourism initiatives which contribute to international understanding and cooperation, an improved quality of environment, the preservation of heritage, and through these initiatives, helping to bring about a peaceful and sustainable world. It is based on a vision of the world's largest industry, travel and tourism – becoming the world's first global peace industry; and the belief that every traveler is potentially an 'Ambassador for Peace.'
About Countrystyle Community Tourism Network:
The Countrystyle Community Tourism Network (CCTN) is a community-based membership organization working in partnership with Villages As Businesses organization (VAB) which is focused on developing local communities as sustainable business enterprises offering a range of products and services which will enable communities to earn income from these businesses that can include offering community experience tours where local and international visitors can experience the lifestyle of the villages, the people, the heritage, the culture, the cuisine and so much more.