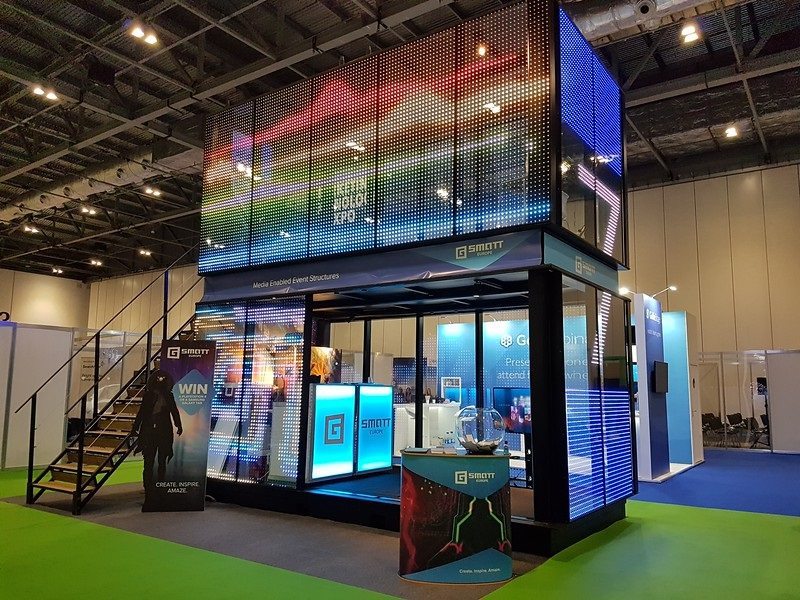 Innovations and touches of magic everywhere at IMEX 2018
"There are new initiatives every year at IMEX in Frankfurt because we continually monitor the coming trends, research what our audiences want and then create ways – or find new partners – to fulfil them. This year buyers will both see and experience some truly awe-inspiring new products, people and spaces throughout the show – more than we've ever showcased before," says Carina Bauer, CEO, IMEX Group.
Carina Bauer is reflecting on the exciting experiences and opportunities that this year's innovations will offer to buyers.
Experimenting with experiential
The most remarkable sensation will be in the Dark Room where participants will taste the extra sensory experience of an educational session in pitch black total darkness. This 'Learning Lab' will feature at IMEX as a result of the new IMEX Group partnership with C2 International, the ground-breaking leader in innovative business conferences. The partnership represents a joint effort to drive innovation and creativity throughout the meetings and events sector.
A multimedia encased two-storey stack of meeting rooms
As well as the Dark Room, also in Hall 9 will be the G-Tainer, a multimedia encased two-storey stack of meeting rooms which will feature a new ground floor 'Chat Bar'. This casual space has been designed for people to meet and make new contacts by holding 'Curiosity Conversations' with each other.
In the new IMEX Live Zone a number of experiential suppliers will bring a touch of magic to the show, demonstrating the power of how thinking and acting more creatively can engage attendees in a variety of ways.
They range from Mr Piano – a giant, walking piano ideal for team building events and the funky Fotobus to a puppeteer, a caricaturist, musicians and improvisational street theatre.
'Floating high and catching the eye' will be Uber Spheres and Thought Bubbles – striking new ways to catch attention and to brand overhead areas. These are supported by warm air jetted from below so they float totally free – and are completely wireless.
The new Zeus Coworking Campus will not only provide opportunities to check emails and to network but also to try out gadgets and games and to take part in pop-up events including Speed Networking.
Another change at IMEX is the show's continued expansion into Hall 9 (exhibitors are in Hall 8). The IMEX Inspiration Hub, the centre and venue for most educational sessions during the three days of the show, moves to a new home in Hall 9. Relocating it here creates more space for workshops, campfires, research pods and hot topic tables – all the different formats and areas in which 180-plus sessions will be presented.
Moving into the main exhibition hall (Hall 8), most notable is the new Tech Café close to all the event technology providers. This is not just a café, it will also showcase event technology providers with a presentation area and space for three new participants. This area will enable exhibitors and IMEX to deliver stand presentations about technology, to show what's new and help buyers appreciate what technology can do for them and how the tech landscape has moved on from last year.
Something for special interest groups
EduMonday, 14 May , continues to grow and provide further innovation and choice for IMEX attendees. New events include an Agency Directors Forum, a facilitated forum by invitation only for the directors and senior planners of agencies. Also new are She Means Business, created in partnership with tw tagungswirtschaft, which celebrates and debates the role of women in the meetings industry, and Rising Talent, an afternoon of actionable learning and career development for meeting professionals under-35.
Throughout the show, including the educational programme, there will be activities designed to highlight a new IMEX partnership with LiveCom Alliance, a European umbrella organisation for national live event associations.
Finally, as a way to bring this year's IMEX Talking Point of 'Legacy' to life, attendees can visit a 'Legacy Wall' in Hall 9. Sustainably crafted from reused pallets, the wall will display exhibitors' own legacy stories together with short stories about IMEX CSR and Sustainability projects, including a spotlight on future leaders.
IMEX in Frankfurt starts with EduMonday, 14 May, at Kap Europa Congress Centre. The business exhibition runs 15 – 17 May in Messe Frankfurt – Halls 8 and 9.