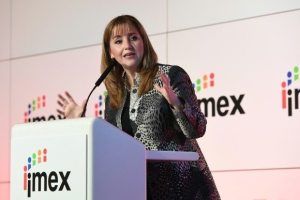 IMEX highlights innovation & business growth in a resilient industry
IMEX in Frankfurt this year will clearly highlight how inspiring innovations, energising experiences and solid resilience are driving continuing business growth in the industry.
At today's opening ceremony of the 16th Frankfurt show which continues until 17 May, Ray Bloom, Chairman of the IMEX Group announced that "This is our largest ever IMEX. It has around 3,500 exhibitors representing well over 150 countries, offering plenty of opportunities to do business, learn more about the latest developments and trends, and to make many new contacts in all sectors of the industry worldwide."
The choice of destinations, venues, hotels and technology providers for buyers is global and wide ranging. They can also visit more than 40 new stands from all continents including the Russian Convention Bureau, the Uganda Ministry of Tourism, Ras Al Khaimah, Azerbaijan, the Lebanon Ministry of Tourism and Leading Hotels of the World. The technology area has more new exhibitors including Bravura Technologies on the Tech Pavilion and Event Tech Tribe and a new Tech Café offering product demos and presentations.
The 50 plus exhibitors – a quarter of those returning – who have invested in larger stands include Choose Chicago, Brand USA, the Mexico Tourism Board, the Polish Tourist Organisation, Meet Puerto Rico, Visit Britain, Pro Colombia, Rwanda Convention Bureau, Accor Hotels and the German Convention Bureau.
Many of the eye-catching and innovative new initiatives are in Hall 9 separate to the show floor. There, a learning zone has been created with the Inspiration Hub, home to the show's 250 plus education sessions, a new Live Zone showcasing experiential acts and a Co-Working campus by Zeus EventTech – the association of event tech start-ups. The most sensational innovations are the 'SkyLab', the chance to experience a meeting in mid-air and in the 'Dark Lab', where educational sessions are run in total darkness. These Learning Labs have been brought to the show by C2 International.
Ray Bloom said: "We're delighted to have formed a new three-year partnership with C2 International, the ground-breaking experts in innovative business conferences, as part of our commitment to driving innovation and creativity in the meetings and events sector."
At this morning's IMEX Opening Ceremony Gloria Guevara Manzo, President & CEO of the World Travel & Tourism Council (WTTC) was the keynote speaker. She said that growth prospects for the travel and tourism sector worldwide were good with a golden age ahead but, to fulfil this potential the industry faced three challenges; that the growth must be sustainable; that the industry had to improve the way it handled crises, both man-made and natural; and security. In addressing these challenges Gloria highlighted the importance of partnerships between private and public organisations and the opportunity for the greater use of biometrics for safety and efficiency.
Gloria Guevara Manzo will also address around 30 politicians as well as many industry leaders at the annual IMEX Policy Forum. This year, 'The Legacy of Positive Policy Making' will be its theme, with globalisation, legacy and resilience among the key issues discussed. Professor Greg Clark will also lead a workshop on the evolution of cities in the meetings industry.
Ray Bloom said; "The Policy Forum has been a crucial catalyst in improving understanding among governments of how this industry can make a significant contribution to economic development."
Yesterday was the second EduMonday which delivered a full conference programme in addition to new events for specific interest groups including Rising Talent for young professionals, an Agency Directors Forum and She Means Business. These events, together with existing high level programmes such as Association Day, Exclusively Corporate and PCMA's Business School, mean that there is more value than ever for all sectors of the industry at IMEX this week.
Rising Talent drew a capacity audience of under 35s to hear advice on career development and progress from experts and peers. The Agency Directors Forum brought together senior leaders in small and mid-size agencies giving them the chance to exchange strategic thinking while She Means Business- in partnership with tw magazine- celebrated women in the industry.
The 100+ corporate event planners at Exclusively Corporate heard keynotes by Amy Brown, head of creative strategy at Google; Rena Lindell, head of sponsorships at LinkedIn; Amanda Whitlock, EY's director of global strategic events and Martin Enault, chief operating officer of C2; while the new program at Association Day, hosted at the Sheraton Frankfurt Airport Hotel, had been structured into three streams following extensive market research. The latest PCMA Business School was led by Adam Kingl of the London Business School who explained how to use the principles of strategic innovation to disrupt existing business models.
A vast program of free education
A wider program of free education runs across the three days of the show at the Inspiration Hub including workshops, campfires and bite-sized show-floor education. Attendees can choose from carefully selected tracks, including Business Skills, Creative Learning, Marketing & Social Media and Diversity, to create their own bespoke schedule, all designed to help them keep a finger on the pulse of the industry. Among new sessions are several covering different aspects of Legacy, the IMEX 2018 Talking Point.
The IMEX Group continually increases its commitment to demonstrating and encouraging best practice in sustainability by producing a Sustainable Exhibiting Guide. This year there is a new focus on reducing the use of plastics by, for instance, providing water refill stations and encouraging everyone to refill reusable water bottles.
Over the four days there are a vast number of social events, many raising important funds for the industry such as Site Nite Europe and cim-clubbing, which this year will benefit the MPI Foundation for the first time. The IMEX Gala Dinner and Awards will take place on Wednesday evening and celebrate outstanding industry achievements.
Ray Bloom concludes: "Seeing all the exciting new initiatives, new educational and experiential activities and the many new and existing exhibitors, IMEX 2018 has something to offer everyone – spectacular new ideas and superb opportunities to do business, learn and make connections. We are looking forward to a successful week in Frankfurt."