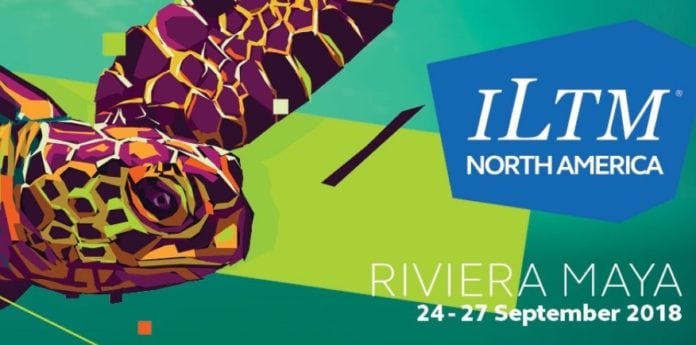 ILTM North America generates over 18,000 luxury travel conversations
With North America continuing to be one of the world's fastest growing luxury travel source markets – a growth set to continue until at least 2025, ILTM North America (which took place September 24-27 in Riviera Maya, Mexico) welcomed 328 agents from 152 cities across Mexico, Canada and the US and 328 exhibitors from 60 countries from all four corners of the world. This was the seventh edition of the event which has tripled in size since its launch in 2012 and this 2018 edition facilitated over 18,000 meetings and conversations throughout the week.
Of the buyers at ILTM North America 2018, 71% were new to the event; a third of the exhibitors were also new – a 6% growth year-on-year. Over 35 of the Americas' most influential editors also attended to source news and feature stories for the year ahead.
Highlighting the broad range and diversity of the event, buyers from cities ranging from Winnipeg to Merida were full of praise for the newly branded ILTM North America:
Haisley Brown Smith of Brownell in Alabama added: "Every appointment I have had at ILTM North America has been spot on appropriate for my business. This will help shape our business development for the coming year and I'm looking forward to next year already."
Mariana Trevino of Servicios Intervoyage, also in Mexico said: "This has been amazing show – I've had productive appointments with great suppliers and the relationships I have developed with both DMCs and hoteliers have been particularly valuable. I am so looking forward to being back here again next year."
Melissa Pugh from Chicago based Jet Set World Travel commented: "Each year, this show gets better and better. The networking has been phenomenal and the matches too have been the best of any show I've been too. A perfect fit and I'm hearing this from all the buyers here too."
Rafael Micha of Micha Travel in Mexico said: "This is one of the best business forums in luxury travel. Everything is perfectly timed, the hospitality of the hotels and organisers is incredible and I could not be happier."
Keith Waldon at Departure Lounge Austin, Texas added: "We love ILTM North America to find both exotic new operators and new ground operators. Love its size, it's format and it's all made so easy for us. I'm a huge fan."
Gerardo Felgueres of Mexico City's Felgueres Travel said: "As President of my company this is my first ILTM North America – I am very happy with the format and the suppliers I have met and will be more than delighted to be back next year."
And Joanne Kuflik of Marchay in New York concluded: "ILTM North America is so well organised but with such a relaxed feel about it – it truly embodies the spirit of this stunning location. The meetings are fantastic with more than enough time which is so key. And the evening events are spectacular…"
The exhibitors were equally complementary about the show:
Louise Bang, VP, Global Sales Caribbean and Latin America, Marriott International added: "With experiences at the centre of our luxury leisure travel and demand for these experiences continuing to grow, we were excited to see our presence double at this year's ILTM North America. Our hoteliers were able to bring the Marriott International Luxury experiences to life at this extraordinary event and we were delighted to meet so many interested luxury buyers."
Virginia Irurita, Founder and Owner of Made for Spain and Portugal added: "This was my first time at ILTM North America and I loved it – loved it so much that I have already reserved my space for next year. A broad range of many, many contacts – so many new to me – and great lengths of time to meet with them all."
Dennis Grunden, Global Luxury & Lifestyle Sales Director, InterContinental Hotels Group said: "ILTM North America continues to grow significantly – the calibre of the agents is once again incredible. The organisation is seamless and the service exceptional – our hotels are all really happy. We were delighted to host both a VIP media and hosted buyer lunch – the quality of those attending both was outstanding. Thank you ILTM."
Sarah Borghaerts, Regional Director of Sales at Sir Hotels said: "What I love about ILTM North America is that as a smaller brand we have a real presence. This is a very sophisticated and mature market and I feel the agents are looking for new and original companies – they know what they want and are booking real business"
Anoushka D Brandl of Itz'ana Resort & Residences in Belize commented: "With our property opening at the end of this year, ILTM North America has been our perfect launch pad. The agents and buyers I met with were very interested and committed to book and the opportunity to introduce our destination to international media was just amazing."
Karim Fehry Fassy of Alize Private, an onsite Morroco based DMC said: "Our clients are looking for truly inspirational experiences and here at ILTM North America we have met with incredible agents whose clients are spot on. With the US and Mexico as our two primary markets, the event has made it easy to secure great appointments with decision-making agents who all listen, understand and commit."
Bob Parra of Tourism Fiji commented: "We have doubled our presence at ILTM North America because we saw such great value in the quality level of agents last year. This year, we are showcasing our luxury product in a bigger and better space and we will definitely be back again year after year."
Celina Tavares of Tourism Portugal said: "ILTM North America has been great for Portugal – not only meetings great buyers from the US but also from Mexico, from where business has been growing crazily recently. The organisation was amazing and we're delighted to have been part of this stunning show."
Nicholas A Kipper, General Manager of the Ritz Carlton in Istanbul said: "We decided to take part in ILTM North America for the first time to relaunch the Ritz-Carlton in Instanbul to our all-important North American Market. The buyers we met with were very enthusiastic about both our property and the destination and we are delighted with the success of the week. An intimate show making a big difference."
Simon Mayle, Event Director for ILTM North America concluded: "We have played host to an incredible 18,000 meetings here at ILTM North America. That's 18,000 conversations about potential traveller trips with hoteliers and destinations from the 60 countries here with us this week. And this doesn't even take into account the meetings in the various bars, restaurants, parties, buggies or even on the beach."
ILTM North America will again take place at the Fairmont Mayakoba for the next two years: 23 – 26 September 2019 and 21 – 24 September 2020.