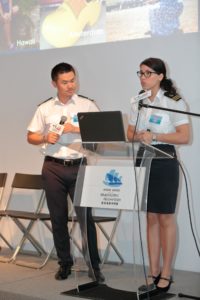 Hong Kong Cruise & Yacht Industry Association at HK Maritim Week
Hong Kong Cruise & Yacht Industry Association (HKCYIA) took part in the "Hong Kong Maritime Week 2017", a major annual event of the maritime and port industries in Hong Kong. Organized by the Maritime and Port Board in collaboration with the Shipowners Association and the Maritime Museum, HKCYIA was a major participant of the event with the setting up of an exhibition booth and the presentation of a series of talks at the "Maritime Career Expo", a featured event of "Hong Kong Maritime Week 2017". Held on November 25, the event provided youths and the general public with extensive information about cruise careers and industry developments.
With the aim of introducing career opportunities in the maritime sector for youths, the "Maritime Career Expo" featured several sharing sessions given by captains, crew pursers and examiners, industry professionals as well as marine students, during which they shared their seafaring adventures, interview skills and industry information with the audience.
As the event speakers, Laura Escobar and Joe Li, Purser Trainers of HKCYIA, both gave talks on the title of "How Interesting is Living and Working on board a Cruise?". They presented the living and working conditions of cruise careers, job requirements and interview techniques, which were well received by participants, with enquiries about cruise careers and their prospects.
In addition, 15 shipping and tertiary educational organizations set up booths at the Expo to provide information about educational opportunities and career pathways in the maritime industry. Participating organizations included Anglo-Eastern Univan Group, China Classification Society, Dalian Maritime University Alumni, Shanghai Maritime University Alumni, The Hong Kong Polytechnic University, Institute of Chartered Shipbrokers, Hongkong International Terminals Limited, Hongkong United Dockyards Limited, Maritime Professional Promotion Federation, Hong Kong Seamen's Union, Maritime Services Training Institute, The Hong Kong Shippers' Council, The University of Hong Kong School of Professional and Continuing Education (HKU SPACE), TurboJET, and Wah Kwong Maritime Transport Holdings Limited.
The 8-day "Hong Kong Maritime Week 2017" offered nearly 50 activities put together by 57 local and overseas industry bodies, academic institutions and professional organizations for participants from the industry and general public. Event highlights included the anchor event "7th Asian Logistics and Maritime Conference", business conferences and forums, visits, industry networking gatherings, competitions and exhibitions. The event was aimed at showcasing the strength of the local maritime industry, promoting Hong Kong as a preferred base for operating maritime business and enhancing the community's awareness of the industry and its contributions to the economy.
Currently reading:
45