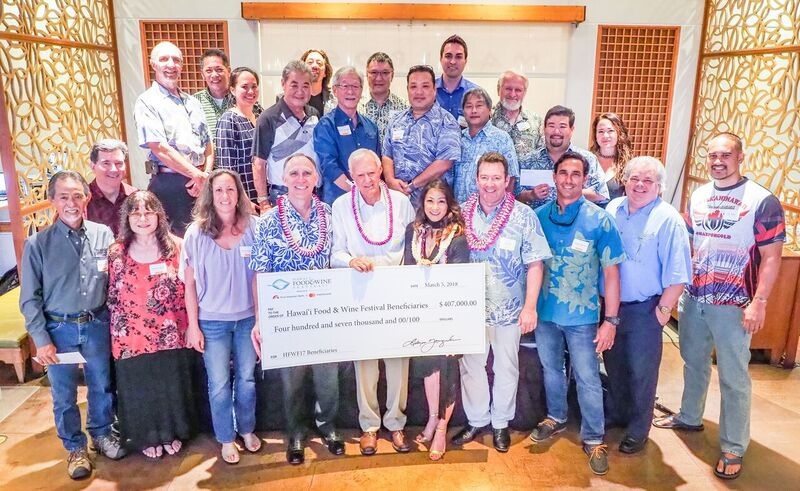 Hawaii Food & Wine Festival raises record $414,000 for charity
Hawaii Food & Wine Festival raised a record $414,000 for 23 non-profit beneficiaries from its landmark seventh annual event. The events from October 20-November 5, 2017 attracted more than 10,000 attendees for the first time, and boosted total giving from Hawai'i Food & Wine Festival (HFWF) to more than $2 million in seven years.
"As Hawaii Food & Wine Festival grows and shines a spotlight on Hawaii as a culinary destination, we're able to raise more money for nonprofit charitable organizations that share our passion for food sustainability, culture, education and causes that align with our mission," says Denise Yamaguchi, HFWF Chief Executive Officer. "It's rewarding to give back and invest in our up and coming chef talent at local culinary colleges, local farmers, and ag education for children. This year, it was also important for us to lend a hand to California wineries affected by wildfire since they're staples of our Festival."
A $407,000 check presented during a Mahalo Reception March 5th at Mariposa brought the grand total for money donated in 2017 to beneficiaries to $414,000 for HFWF. The reception featured tastings by HFWF Co-Founders Roy Yamaguchi & Alan Wong, Colin Hazama from Royal Hawaiian, and Mariposa's Lawrence Nakamoto. "We're in this together," shared Roy Yamaguchi. "Our mission has always been to Taste Our Love for the Land." Alan Wong credited exposure from the Festival for shattering stereotypes that Hawaii cuisine consists of "pineapple and macadamia nuts."
2017 Hawaii Food & Wine Festival beneficiaries include:
Culinary Institute of the Pacific- $80,000
Hawaii Agricultural Foundation- $70,000
Imua Family Services- $50,000
Kapiolani Community College Culinary Arts Program- $50,000
Kapiolani Community College Hospitality and Tourism Program- $25,000
Leeward Community College Culinary Arts Program- $25,000
Maui County Farm Bureau- $20,000
Napa Valley Community Foundation Disaster Relief Fund- $10,000
The Sonoma County Community Foundation Resilience Fund- $10,000
Hawaii Island Community College Culinary Arts Program- $10,000
Maui Culinary Arts Program- $10,000
Paepae o He'eia- $7,500
Papahana Kuaola- $7,500
Hoa 'Aina O Makaha- $7,500
Kauai Community College Culinary- $5,000
Hawaii Seafood Council- $5,000
Hawaii Farm Bureau Federation- $2,500
Na Kama Kai- $3,000
Waipa Foundation- $3,000
E Ala Voyaging Academy- $3,000
Hoopulapula Haraguchi Rice Mill- $3,000
Waianae High School Culinary Program- $1,500
Waipahu High School- $1,500
Keiki in the Kitchen Recipe Contest Scholarship- $500
Hanalei Taro & Juice Co.- $500
Waialae Keiki Hula- $500
HFWF also introduced Franklin Arguelles of Roy's Ko Olina as the Hawaii chef who earned a grant that will cover travel and living expenses to stage in acclaimed restaurants through a partnership between HFWF and the prestigious culinary nonprofit, ment'Or BKB Foundation.
HFWF is a program of the nonprofit, Hawaii Ag and Culinary Alliance. Its mission is to attract national and international attention to the extraordinary culinary talent, as well as the diversity of quality locally grown products to ensure Hawaii maintains its competitive edge as a world-class destination.
In seven years, HFWF has expanded from a 3-day festival with 30 chefs in Waikiki to more than 20 events spanning Oahu, Maui and Hawaii Island. HFWF17 welcomed 10,843 festival attendee, including 1,900 Mainland and international visitors to 20 events featuring 120 top chefs, 50 wine makers, and 12 mixologists. HFWF17 garnered $12 million in publicity value from media coverage including BuzzFeed's Tasty, USA Today, Reader's Digest, Food and Wine, Los Angeles Times, NBC Bay Area, Travel + Leisure, AFAR, The San Jose Mercury News, and Allure Korea.
Two new events in May will officially launch #HFWF18 on May 9th and May 11th at The Kahala Hotel & Resort. That's when The Festival will announce the talent and themes for the eighth annual festival happening October 6 – 28, 2018.