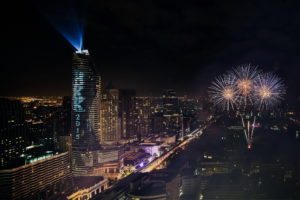 Happy New Year Bangkok: 780,000 tourists were attending
One of the world's most popular visitor destination, Bangkok, attracted more than 780,000 visitors over the festive 2017 New Year period, an increase of 30% from last year with over 50% international tourists. Among the top attractions during this period, the spectacular 'Beautiful Bangkok by Magnolias @ Ratchaprasong', a world-class 3D projection mapping performance incorporating a special New Year's Eve Countdown and embodying Thainess and cultural pride, brought thousands to the Ratchaprasong district of the city.
Ratchaprasong has evolved over time to ascend to its current position as the city's heart, soul and premier center for shopping, hospitality, business and tourism.
Mr. Visit Malaisirirat, CEO of Magnolia Quality Development Corporation Limited, said, "Visitor spending helps to boost tourism revenue and economic growth of the city. We're delighted to have been able to present 'Beautiful Bangkok by Magnolias @ Ratchaprasong' as our contribution to the city at the time of Christmas and New Year. It definitely brought a joyful year-end to all visitors who came to Bangkok, home of Magnolias Ratchadamri Boulevard. The lighting performance embodies Thai character and our cultural pride; it highlights Bangkok's status as an international destination for leisure and business travelers, and also for luxury property investors".
Ahead of London, Paris and Singapore, the capital city of Thailand had a record 19.41 million visitors in 2016, more than London 19.06m, Paris 15.45m, and Dubai 14.87m, and is expected to have hosted nearly 20.2 million tourists in 2017, according to Mastercard's annual list.
"We expect visitor numbers in the Ratchaprasong area, where our super luxury mixed-use development is located, will have shown an increase by about 30% from 600,000 visitors to 780,000 visitors during the Greeting Festival as they come to shop, celebrate the countdown, and see the stunning 3D light art installation projection. Many will have returned home to cities like Hong Kong and Singapore after appreciating the relative value here and considering Bangkok as a very possible option for investing in property or starting a business".
According to the Tourism Authority of Thailand (TAT), foreign and Thai tourists are expected to have spent some Bt15.56 billion from December 29 to January 2, 2018. Based on air ticket and accommodation reservations, about 420,000 foreign tourists are expected to visit Thailand during the New Year holiday period, an increase of 17 per cent on last year.
New Year's Eve in Bangkok marks the closure of a year in which the city is now considered to be a true alternative to other premier regional cities – one of the very top destinations for investment in property and business. "We've very pleased to create 'Beautiful Bangkok by Magnolias @ Ratchaprasong' lighting project to show and to attract visitors to Bangkok, and in some way contribute to tourists numbers and consumer spend. We're also satisfied that our beautiful project and its aesthetically pleasing design is perfectly suited to the attractive and ever-evolving skyline of Bangkok, our beautiful city," concludes Visit.
Magnolias' lighting show has been displaying special Christmas festive motifs to celebrate the season of joy and togetherness with Bangkok citizens and international visitors. On New Year's Eve, the program featured a New Year's Eve countdown, New Year's greetings and an integrated fireworks display to mark the magical close of 2017.
Magnolias Ratchadamri Boulevard itself is a mixed-use super luxury project with sophisticated and iconic architecture inspired by magnolias flowers. The development encompasses 316 luxury residence units in its 60-story tower plus office areas and the 5-star hotel Waldorf Astoria Bangkok, the first branch of Hilton's flagship brand in Southeast Asia. Magnolias Ratchadamri Boulevard offers the prime investment opportunity in Thailand, and presents one of the best opportunities in Asia for investing in the luxury property sector