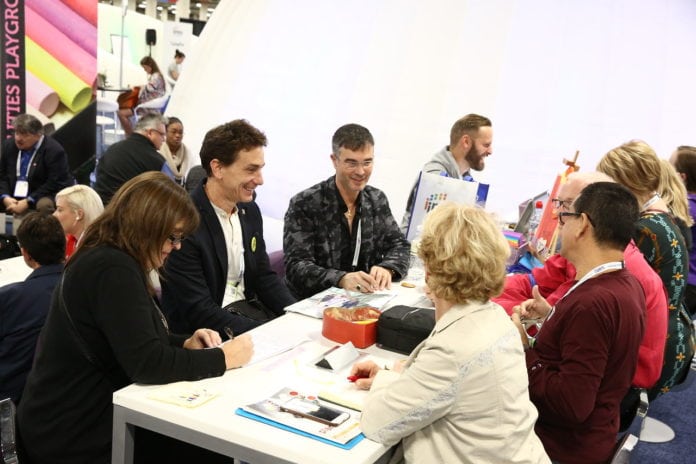 Get your professional development on at IMEX America 2018
With just three weeks left to go until the eighth annual IMEX America, you've hopefully got your comfy shoes, business cards and penchant for doing power business and networking ready to go… now just be sure to leave enough space in your luggage for your thinking cap so you can leverage the rich professional development opportunities in Las Vegas.
With more than 180 learning sessions available during the IMEX America week, there are plenty of options to fit your needs, passions and your hopping schedule.
Here's an example of just a few of the dynamic sessions that can help you up your innovation game, gain inspiration, and take away tangible ideas you can use long after IMEX America wraps.
Give 10 minutes get 10 ideas and design new ways of thinking
On Smart Monday, Six Star Experiences – a division of the award winning redbutton.tv and curators and creators of unique and unforgettable experiences – have developed the Six Star Innovation & Experience Lab where you can pop in anytime throughout the day.
Here you can meet and speak with Sophia the world's most advanced, humanistic robot that's been featured on 60 Minutes and left Jimmy Fallon speechless on the Tonight Show. You can also experience one-on-one interactions on themes including experiential gifting, and find out how some of the coolest tech you've seen at the Olympics, Super Bowl, World Cup, concerts and awards shows can be easily scaled down for your events.
Then always a popular choice, PCMA will once again bring a session on Smart Monday, this time an hour-long mind-meld with Community Design on "Design Thinking: bringing an innovative mindset to your work." Creativity is the name of the game here.
Get jazzed at the Inspiration Hub and Women in Events Happy Hour
Throughout the show – and right on the floor – you'll find plenty of professional development opportunities at the Inspiration Hub like: "When crises are your vices," from davies + dixon that majors on planning for social media as a strategic crisis management tool; "Taking the pledge for sustainable events" with Freeman using a Boy Scout Jamboree case history as a living example of green events; and as part of IMEX's ongoing dedication to the topic of women in the meetings industry, "Shake feeling a fake: how to be powerful and remove self-doubt," with Bold Life & Biz.
Further, Event Tech Tribe will host a Women in Events Happy Hour for networking and celebration in partnership with the Association for Women in Events – Tuesday October 16, 4:30 – 6:00 p.m. at the Event Tech Tribe booth (#F1464).
A daily jolt of morning smarts
Finally, don't forget to get a morning rush from the daily wisdom brewing at the MPI keynotes. Julius Solaris of EventMB kicks off the week on Smart Monday around "legacy and the power of events". Tuesday's keynote, speaker and author Kelly McDonald will dive into diversity and "how to work with and lead people unlike you"; trainer and author Paul Smith will help you shine on Wednesday on the storytelling front, and Thursday morning's C2 collaborative session on emotions, technology and audience connection will wrap things up on a strong note.
To find out about other learning opportunities that might be right up your alley at IMEX America visit the searchable education listing here.
IMEX America is completely free to attend. No charges. No hidden fees. Register in advance or just turn up!