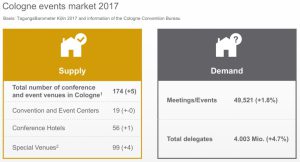 Cologne MICE participants: 4 million and counting
In 2017, the event market in Cologne, Germany exceeded four million participants for the first time. That's the conclusion of the current TagungsBarometer (Conference Barometer), a survey of convention centres, conference hotels and event locations that is conducted regularly by the Cologne Convention Bureau (CCB) in cooperation with the Europäisches Institut für TagungWirtschaft (EITW).
A total of 49,521 events (+1.8 per cent) with 4.003 million participants (+4.7 per cent) were held last year. In addition, the number of event locations increased to 174 (+5) in 2017. The new venues include a new conference hotel and four event locations.
Positive developments since the first survey
Ever since the market research regarding conventions began in 2009, the figures for events and participants have steadily grown. Back in 2009, the survey registered 41,500 events with 3.13 million participants. By 2017, the number of participants had increased by almost 30 per cent.
Organizers of corporate events top the list of conventions and congresses
Conventions and congresses account for 71 per cent of the events held in Cologne in 2017; other types of events account for the remaining 29 per cent. Organizers of corporate events continue to top the list of conventions and congresses, and in the past year they further increased their share of the total, from 76 per cent to 81 per cent. Banks and insurance companies are still the most important sector in this category, followed by medicine and pharmaceuticals. The EDP sector occupies third place, having surpassed the communications sector for the first time.
Event planners from Germany and abroad bring benefits
The USA is gaining ground among the international source markets. Together with the UK, it now occupies first place among event organizers from abroad. The Netherlands, Switzerland and Austria follow after a considerable gap. Most of the events have their organizers in Germany. A shift has been evident during the last few years: more and more organizers from outside the Cologne region have purposely selected Cologne as an event venue (2016: 36.6 per cent; 2017: 44.17 per cent), thus creating important economic advantages for the city.
On April 9, 2018, the CCB, which is celebrating its tenth anniversary this year, will publish a comprehensive survey of the economic effects of Cologne's convention and congress market. No overview of this kind has ever been published in Germany before.