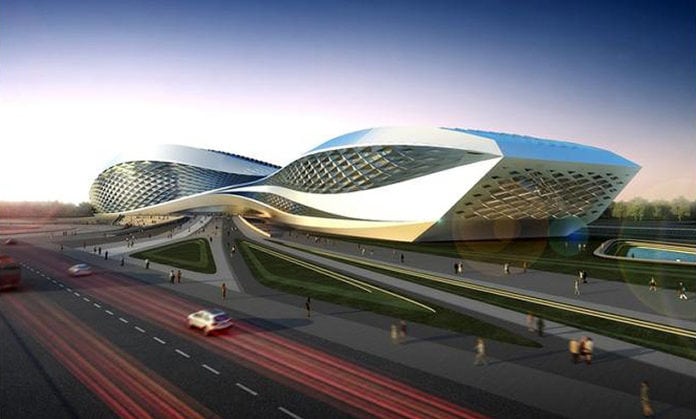 Chengdu, China host of 2018 iWorld Expo
The 2018 iWorld Expo will be held at the Century City New International Convention and Exhibition Center in Chengdu from August 16-18.
This year's iWorld is supported by Chengdu Municipal People's Government, jointly organized by Chengdu Municipal Commission of Economic and Information Technology, Chengdu Municipal Bureau of Exposition and Chengdu Hi-tech Zone Management Committee, and hosted by International Data Group (IDG).
As one of the world's largest display platforms for electronics products and solutions for mobile consumers, the upcoming iWorld will be focused on the future development of digital economy in the new era through exhibitions, conferences, summit forums and a series of other events.
Eight exhibition areas to showcase the achievements of AI innovation
The emerging digital economy has become a major impetus for economic growth. It serves as a vital driving force for transformation and upgrading, and sets the benchmark for a new round of global industry competition. As China enters a new era of socialism with Chinese characteristics, it has turned towards the development of digital economy and promotion of digital transformation of the real economy and traditional industries into new missions and new opportunities for its economic development. The theme of the upcoming iWorld is "Digital Economy in the New Era". This theme is in line with the general trends of digital economy and places the upcoming event in a more forward-looking, authoritative and guiding role.
We have learned that the exhibition will be spread across 22,000 square meters, with eight special exhibition areas set up for artificial intelligence, VR/AR, future intelligent life, smart cars, digital entertainment, renowned software cities in China, innovation and entrepreneurship, and intelligent hardware. The exhibition will be putting together more than 200 domestic and international brands, such as BOE, Smartisan, Pactera, Rokid, Codoon, BAIC BJEV, iFlytek, Chinasoft International, Skyworth, HYDATA, Fcoin, Shadow Creator, etc..
Exhibitors will be presenting their latest mobile internet products. Smartisan will be displaying its latest flagship phone – Smartisan R1, which has a Qualcomm 845 processor, 8GB RAM and maximum storage of 1TB. These are remarkable, record-breaking features in the world, and they showcase Smartisan's pursuit of excellence. Rokid, the first company in China to study human-computer interaction and smart home robot category in the artificial intelligence field, will be showcasing three prime products such as Rokid Me portable smart speaker, KAMINO18 AI voice dedicated chip and Rokid AR Glass. BOE will be appearing at iWorld with multiple leading products in intelligent display field, which will include an eye-opening dynamic floating flexible and bendable AMOLED display. This innovative product comes with a thickness of only 0.03mm and a resolution of 1080×2160, and is able to wave like a skirt's hemline that is caught in the wind. Codoon will be featuring its new sporting product – Codoon x XQIAO C3 smart treadmill. Based on the self-developed Codoon Smart Engine, it will bring "real-time virtual sports personal trainers" to its users. A range of other exhibitors will also be unveiling similarly exceptional products for the attendees.
Nine forums to explore the cutting-edge trends of AI
At present, the prototypes of various cloud ecosystems have matured gradually. The Internet of Things (IoT) looks set to become the mainstream form of interaction for the world in the future. Along with this trend, artificial intelligence has become the optimal solution to the application issues of Internet of Everything. In addition to the amazing exhibitions, this year's iWorld will be hosting a main forum and 9 parallel forums to bring together the elites of mobile internet ecosystem at home and abroad. These prominent leaders will be focusing on the industrial characteristics of the Internet and share their insights on the future development trends.
The event will be attended by leaders from MIIT and Chengdu Municipal People's Government, prominent business figures such as Jennifer Xu (Vice President of IDG Asia), Wang Xiaochuan (CEO of Sogou), Chen Feiliang (Vice President of Smartisan), Zhang Dongwei (Senior Vice President and Chief Marketing Officer of Pactera) and Wang Qian (Co-founder of maimai), as well as top academics such as Yang Dong (Director of the Big Data Blockchain and Supervision Laboratory) and Zhao Qigang (Hi-tech Information Technology Research Institute of Chengdu), who will be delivering first-class speeches in the various forums to share their remarkable insights.
The Internet is entering a brand-new development stage of intelligent Internet. Artificial intelligence is an important driving force for a new round of technological revolution and industrial transformation. In the Main Forum of the 16th China International Software Cooperation Conference and iWorld Conference 2018, the guests will be focusing on the popular topic of artificial intelligence, and shall hold candid discussions on the substitution and unemployment problems that may be brought about by the reform. As the most sought-after and cutting-edge technical direction at the moment, blockchain will be undoubtedly the focus of 2018. In the "Linking the Future" Blockchain Summit, guests will be discussing topics such as development, supervision and business model of the blockchain.
A big display of capital and project docking will be staged during the Global Creative Mobile Internet Development Competition (Chengdu). As science and technology are the primary forces for production, guests will be able to share the power of technological innovation during the Technological Innovation Conference. The battle for talents has long a bone of contention. In the "Elite Strategic Layout–The Match Point of Internet Industry", guests will be discussing how enterprises can build their nests and attract phoenixes during the initial, development and peak stages.
Five events take turns to showcase splendidness
In order to deliver a more intuitive and intelligent technology experience to the audience, iWorld 2018 has set up a variety of brilliant special events. The Best 2018 Awards, Talent Awards, Robot Fighting, Special Cooperation Negotiation of High-quality Brand Channel Businesses, E-sports, etc. will be staged in turn.
In addition, the "Clash Robots" Fighting Robot Carnival will hit the city of Chengdu in style. Packed with fun and technology, the robot fighting contest will provide audiences with a golden opportunity to understand and learn about robots. By combining smart technology and competitive fun, the event will offer a different viewing experience. At the same time, e-sports competitions will also be in the spotlight, including the popular games "Star Craft" and "King of Glory". Top domestic and foreign masters and renowned teams will be gathered through live e-sports games to launch an intense competition, which will boost the interactive viewing experience of the live events.
Not only will the upcoming iWorld bring together the latest technology trends and cutting-edge technological products, it will also provide ample opportunities for visitors to network and seek business cooperation. At the same time, audiences will be treated to a brand-new and up-close experience brought by cutting-edge technology. Brand exhibitors and audiences shall enjoy a superb opportunity for an intimate experience with the latest technology. For more details, please follow the website at http://iworld-idg.com/en/index.aspx