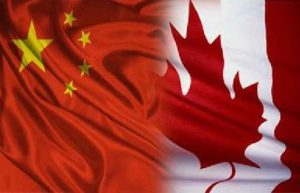 Canada's tourism ministers meet ahead of Canada-China Year of Tourism in 2018
Tourism directly or indirectly supports one in ten jobs in rural areas, small towns, Indigenous communities and big cities from coast to coast to coast. The Canadian Council of Tourism Ministers (CCTM) is committed to working together to support this vital economic sector. Today, the Honourable Bardish Chagger, Leader of the Government in the House of Commons and Minister of Small Business and Tourism, and the Honourable Eleanor McMahon, Ontario Minister of Tourism, Culture and Sport—co-chairs of this year's CCTM—concluded a productive meeting in Ottawa. Each year, the CCTM brings together representatives from all Canadian jurisdictions and key parties working in tourism to better collaborate on developing and promoting Canada as a top tourism destination.
During the meeting, ministers agreed to work together to capitalize on the unprecedented opportunity that the 2018 Canada-China Year of Tourism represents. China is the world's fastest growing source market for international tourists, and the Canada-China Year of Tourism, first announced by Prime Minister Justin Trudeau and Chinese Premier Li Keqiang in Beijing in 2016, will help promote Canada as a destination of choice for Chinese travellers. Ministers committed to collaborating on a plan that showcases Canadian events and activities from all regions of Canada and engages with the vibrant Canadian tourism sector to help strengthen market readiness. Minister Chagger extended an invitation to her fellow ministers to join her on a mission to China in 2018 to promote Canadian tourism.
Ministers also discussed the progress made since agreeing to the Nunavut Declaration in 2016, which includes a commitment to collaborate on marketing initiatives, product development, workforce needs and data sharing in order to grow and increase Canada's competitiveness. Before their meeting on Friday, ministers also met with national Indigenous leaders who offered perspectives on the unique challenges and economic development opportunities around tourism for Indigenous communities. For the first time, ministers discussed the growing economic impact of cycling tourism.
In addition, ministers heard from representatives of the Tourism Industry Association of Canada, Destination Canada, the Aboriginal Tourism Association of Canada and the Canadian Council for Aboriginal Business.
Tourism is thriving in Canada. Last year was the best year in more than a decade for tourism. In 2017, arrivals of travellers to date have been strong, with growth of 4.2 percent over the same period last year. Arrivals from China over the same period are up 11.9 percent compared to last year. The Government of Canada, provinces, territories, Indigenous leaders and all industry and community partners are working hard to make sure these numbers continue to grow in the future.
Quotes
"Tourism is truly part of every community, large and small, across Canada. It is an economic driver, supporting 1.8 million jobs and employing more young Canadians than any other sector of our economy. Our government is strongly committed to working together with our colleagues across the country to promote the many amazing, must-see destinations for which Canada is renowned. The Canada-China Year of Tourism that is taking place in 2018 is a wonderful opportunity to showcase all that we have to offer. We expect to welcome a record number of visitors this year, and we are committed to building on this success in 2018 and beyond. When our tourism sector thrives, it means more well-paying middle-class jobs for Canadians—in rural and urban communities alike. I very much look forward to working with my colleagues to welcome tourists from China and around the world to every province and territory next year and for many years to come."
– The Honourable Bardish Chagger, Leader of the Government in the House of Commons and Minister of Small Business and Tourism
"Tourism showcases our culture, diversity and rich natural landscapes to the world's travellers, while boosting the economy and creating jobs in our communities. I look forward to continuing to work with my colleagues across the country to strengthen the industry so that even more people have the opportunity to discover all that our country has to offer."
– The Honourable Eleanor McMahon, Ontario Minister of Tourism, Culture and Sport
Quick facts
• Alberta will be the new co-chair of the CCTM and will host the next meeting in 2018.
• Tourism is Canada's largest service export and represents more than 2 percent of our GDP.
• One in ten Canadian jobs—more than 1.8 million—depends on the tourist economy.
• Tourism is our number one employer of youth and is an important provider of employment for new Canadians.
• In 2016, international visitors accounted for $20 billion in tourism revenues. Domestic tourism contributed close to $72 billion.
• International travellers are increasingly interested in unique and authentic experiences. Indigenous tourism in Canada is gaining momentum.