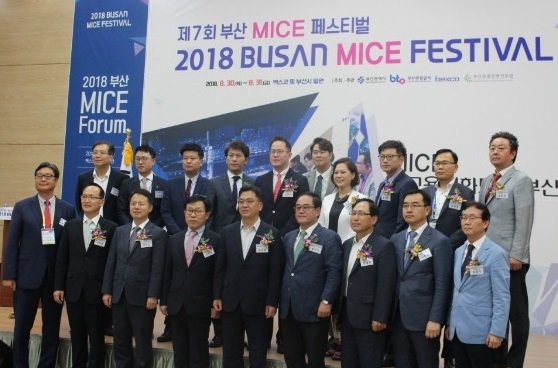 Busan MICE Festival highlights efforts to accommodate growing demand for international business events
Busan's rapidly-growing meetings industry was recently put on public display during the two-day Busan MICE Festival, held from August 30-31 at BEXCO, the city's main convention center, and other related business events venues. Attended by over 1,000 government officials, meeting professionals, and local citizens, the festival explored the current state of the global meetings industry, Busan's competitiveness as a leading Asian MICE destination, and the employment opportunities its flourishing business events sector offers job seekers.
Held under the theme, 'Busan – a Competitive, Employment-Friendly MICE City', the festival featured a range of presentations, information and education sessions. Most notably, this included the Busan MICE Forum on August 30th, which focused upon current trends and socioeconomic developments in overseas meeting destinations such as Japan, and the impact they have had on local employment. The day also included panel discussions and a job fair for Busan's younger citizens.
Several high-level government and corporate figures were in attendance, as well as Busan Tourism Organization (BTO) President Jeong-bo Shim, who stated at the forum's welcoming remarks, "This forum is a great opportunity for Busan's MICE industry to evaluate its competitiveness and prepare itself for continual growth as a global MICE destination."
Busan's own meetings infrastructure featured prominently on August 31st through a range of education sessions and lectures for both tourism industry officials and the public. The highlight of this was the chance to experience firsthand two of the city's major unique venue facilities located in Haeundae, its core convention district. These included a visit to The Bay 101 Yacht Club and a harbor tour in a Blue Marine cruise yacht. The day concluded with a networking party for business events professionals.
Sponsored by Busan Metropolitan City, the Busan Tourism Organization (BTO), BEXCO, and the Busan Tourism Convention Forum, the Busan MICE Festival has been held annually since 2011 with the principal goal of raising public awareness of the wealth of opportunities offered by the city's meetings industry. Busan is currently the seventh-highest ranking convention city worldwide, according to the latest UIA International Meetings Statistics report.