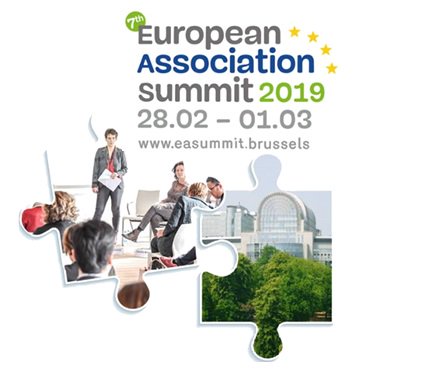 Brussels preparing for 2019 European Association Summit
On Thursday 28 February and Friday 1 March 2019, international association professionals will meet for the European Association Summit. It will be held in Brussels, Europe's top conference city. The theme of the EAS this year is share and co-create.
The annual European Association Summit should not be missed by anyone involved with international associations. It is the perfect opportunity to network and share experiences. The program for this seventh edition includes around forty speakers from a diverse range of organizations.
eTN Chatroom: Discuss with readers from around the world:
---
Brussels
The EAS will be held in Square, Brussels Convention Center. Participants will then transfer to the Ateliers des Tanneurs for the networking event. It is no coincidence that Brussels has been chosen to host this event. Indeed, the region is home to around 2250 international associations. Furthermore, Brussels is Europe's top destination when it comes to organizing congresses funded by international associations.
Share and co-create
This year, with its theme 'share and co-create', the EAS aims to focus people's attention on new trends in the sector. All participants will get the chance to find out more about 'best practices' and develop a strong international network to help them with new initiatives.
Thanks to the interactive workshops, representatives from around 100 international organizations will be able to share their experiences. Such co-creation helps in developing new tools and new daily methods. Participants learn plenty in a lively environment, while remaining focused on finding solutions within the world of international associations itself. In fact, EAS has never deviated from this principle.
Sustainability
This year, there will be extra focus on the environment. The EAS participants will therefore find out how to make an event environmentally friendly and what associations can do to promote sustainability. Each association can also calculate its carbon emission level and compensate this with a donation to Sun For Schools, a Brussels project that aims to make schools aware of the environmental challenges ahead. Naturally, the visit.brussels Association Bureau also aims to make this edition of the EAS a sustainable one.
For this reason, a plan has been drafted in which all stakeholders will be encouraged to commit to sustainability using specific KPIs. In this way, other conferences in Brussels can follow the example set by the EAS.
The topics planned for the EAS include crisis management and digitization, a vision on the non-profit sector and young people in associations. Thanks to the attendance of speakers from other continents, experiences of organizations from the US, Middle East and Asia will also be covered.
Breakout sessions Topics:
• The New Generation will be our Future Leadership
• Managing Change, Transformation and Emergencies
• Vision and Mission for Non-Profit-Organizations
• How to Attract, Engage and Retain Association Members
• Be a Green Association: Challenges of Sustainable Associations Today
Partner sessions Topics :
• The ESAE session: Digital ®evolution in your Association: Embrace. Engage. Excel.
• How ICCA uses trust to build a community!
The EAS is organized in close collaboration with some large partners from the sector: ESAE
(European Society of Association Executives), FAIB (Federation of European & International Associations Based in Belgium), UIA (Union of International Associations) and GAHP (Global Association Hubs Partnership), the Solvay Brussels School – Economics & Management, PCMA (Professional Convention Management Association) and the ICCA (International Congress and Convention Association).