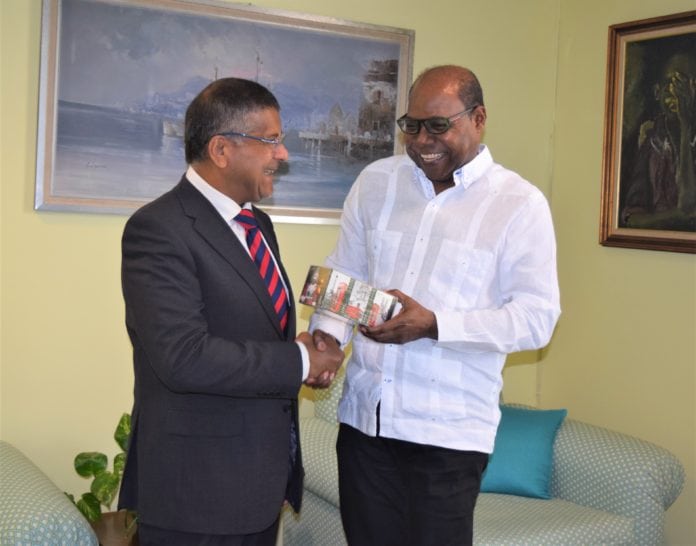 British High Commissioner to make presentation at Jamaica Tourism Resilience Summit
Jamaica Tourism Minister, Hon. Edmund Bartlett, expressed his gratitude for a token presented to him by His Excellency Asif Anwar Ahmad, British High Commissioner to Jamaica and the Bahamas, during a recent courtesy call to the Minister's New Kingston office.
During the meeting, the ambassador confirmed that he will make a presentation at the upcoming Tourism Resilience Summit, being hosted by Jamaica on September 13 at the University of West Indies.
The event is taking place under the theme "Tourism Resilience through Global Synergies," and will address events that disrupt tourism, such as climate change, epidemics and pandemics, terrorism, and cybercrime.
The summit will gather key global stakeholders and thought leaders at the University of the West Indies, Mona in Jamaica.
"This summit forms part of my ministry's efforts to build resilience within the region and globally. Resilience building has become even more crucial in a world that is hyper connected and as such more susceptible to climate change, epidemics and pandemics, terrorism and cybercrime," Bartlett said.
The summit will "seek to assess existing and emerging disruptions related to tourism management globally; examine the risk of these disruptions to the global tourism product; and identify a synergetic strategic and operational framework for mutual partnerships between and among major governmental, non-governmental and business entities to address as well as develop mitigation strategies for these global disruptions," according to a statement from Jamaica's Ministry of Tourism.