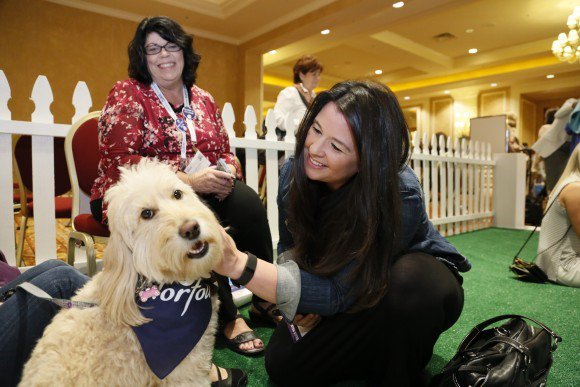 A carnival of engaging activities: That's Smart Monday at IMEX America
Stimulating, surprising, satisfying and even sensational: just some of the feelings that Smart Monday, powered by Meeting Professionals International (MPI) will be inspiring on October 15 at IMEX America in Las Vegas.
It's a day dedicated to professional development– and it's all free. From 08:30 a.m. onwards, it's full of education opportunities for everyone, no matter how many years of industry experience they have, and for buyers and exhibitors. For Smart Monday MPI has created 20 education sessions covering topics from leadership to stress in the workplace and attendees can earn up to 12.25 clock hours on CMP International Standards from MPI sessions during the week.
There are many different education sessions to choose from.
There is a power-packed start to the day from the first MPI Keynote of the week which is sponsored by Visit Anaheim. Julius Solaris, Editor of EventMB (eventmanagerblog.com) will reveal how events that are planned with a long-term legacy in mind can change lives, businesses and whole communities.
He will share findings from a major new industry research report, commissioned by IMEX, researched and produced by EventMB and developed in association with ProColombia.
Smart Monday education sessions cover many of the important topics that event professionals face day-to-day. Augmented reality, contract litigation, crisis communications and women in leadership are all in the program along with leadership, sales coaching, managing stress and event design. PCMA has arranged for Scott Weiss of Community by Design to teach how 'Design Thinking' can unlock creativity and inspire teams to bring an innovation mindset into their work.'
The carnival comes to IMEX
While many sessions are in-depth, deep dive immersions into a key subject, on a lighter note, new this year MPI has created an American style carnival with a range of elements including magicians, jugglers, artists, LEGO furniture, balloon columns and carnival games. In addition, attendees can 'Paws for a Break' with some petting dogs, relax in guided meditation sessions with Lee Papa and take advantage of a Headshot Station.
Why not 'Paws for a Break'?
Smart Monday is also the day when hundreds of senior association executives from around the world will arrive at IMEX America for the Association Leadership Forum. The program, specially created by ASAE: The Center for Association Leadership and sponsored by Meet Hawaii, has been tailored to meet their needs, addressing key topics and giving them the chance to learn from industry leaders and share insights with their peers. Later they can continue networking at Association Evening. Association leaders who would like to take part can register here.
For invited corporate meetings specialists
At the same time, in The Forum at Paris Las Vegas, supported by Visit Dubai, the Executive Meeting Forum will be bringing together an invited group of senior corporate executives and meetings planners to share best practice and experiences with one another. They will have the choice of two tracks – the Strategic Meetings Management (SMM) and Procurement Leadership Forum which include a benchmarking exercise, or they can join the Meeting Management Forum to discuss topics from leading a global team to managing stakeholders.
For up and coming incentive travel professionals, Smart Monday is also when SITE will be bringing many of them together at its Young Leaders Conference.
Discovering and networking
Smart Monday is also a day for discovering Las Vegas and meeting colleagues. New this year and running all week from Monday are the Lip Smacking Foodie Tours giving a taste of some of the many different high class eating establishments in the city. The Shamrock Invitational Golf Classic is ever popular while SITE Nite North America is the first of the week's many social activities.
Carina Bauer, CEO of the IMEX Group commented: "MPI, our strategic partners and premier education provider, have once more brought together another outstanding program full of ideas and opportunities for event professionals to grow stronger and smarter together with IMEX and MPI.
"Smart Monday is once again going to be bigger and better, more impactful and more inspiring than ever.
It's an important expression of IMEX's mission to unite and advance the industry, doing everything we can to educate, innovate and help our clients make powerful connections with the right people – and, more importantly, we don't charge a single penny! It really is a high-value start to a big business week for the industry."
View the full details of the Smart Monday program, October 15.