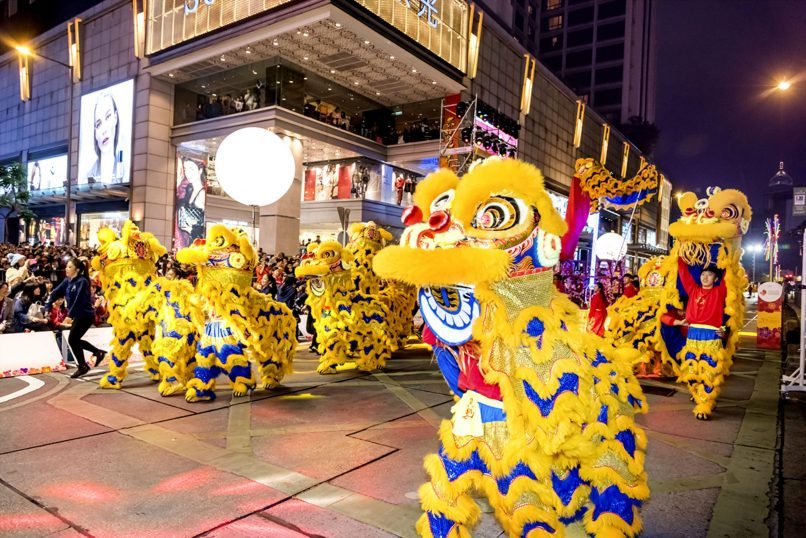 2018 Cathay Pacific International Chinese New Year Night Parade features strongest international line-up ever
Featuring nine festive floats and 25 local and international performing groups, including world champions and world record holders, the 2018 Cathay Pacific International Chinese New Year Parade was staged at 8pm tonight, on the first day of the Year of the Dog (16 February) in Tsim Sha Tsui. Organized by the Hong Kong Tourism Board (HKTB), the Parade featured fascinating performances and stunts to present a vibrant Chinese New Year's celebration for visitors and local residents alike. The HKTB also held roving performances along the route starting from 6pm, with around 30 performing groups to interact with spectators before the show.
This year marked the 23rd edition of the Parade, with Cathay Pacific Airways as the title sponsor for the 20th consecutive year, and China Construction Bank (Asia) as the route sponsor for the fourth year in a row. The launch ceremony of the Parade was attended by Mr Edward Yau, Secretary for Commerce and Economic Development of the HKSAR Government; Mr Paulo Pong, HKTB Board Member and Chairman of the Product and Event Committee; Mr Rupert Hogg, Chief Executive Officer of Cathay Pacific Airways; and Mr Anthony Lau, HKTB Executive Director.
Themed 'Best Fortune. World Party.', the Parade had been scaled up to feature the strongest ever international cast, consisting of a number of world champions and world record holders, including: the XPOGO Stunt Team from the United States, holder of 13 Guinness World Records; Diaboloism from Taiwan, world champions in Diabolo; award winner and world record holder Zee Comedy Magic and Zeejay Juggler from the Czech Republic; Unicycle Circus Theatre Witty Look from Japan, the winner of various international busking awards; and Jugglers Vision from Japan, a three-time national juggling winner in Japan.
To bring additional surprise to visitors and local residents, the HKTB invited young pop idol Jackson Wang to join HKTB on its float in the role of 'Hong Kong Tourism Envoy', for the very first time. Spectators got to interact with Jackson along the parade route to celebrate the Year of the Dog in an exciting atmosphere.
To raise the profile of Hong Kong among worldwide audiences, as one of the best places to celebrate Chinese New Year, the HKTB broadcast the Parade live by satellite and fibre transmissions to global television networks, major newswires and international cruise liners for live broadcasts.
Hot on the heels of the 2018 Cathay Pacific International Chinese New Year Night Parade will be a public display of the floats in Tai Po Lam Tsuen from the 2nd to the 17th day of the Chinese New Year (17 February to 4 March). On 17 and 18 February, various international performing troupes will grace Tai Po Lam Tsuen, the pentahotel Hong Kong, Kowloon in San Po Kong and Temple Mall North in Wong Tai Sin with their entertaining shows.