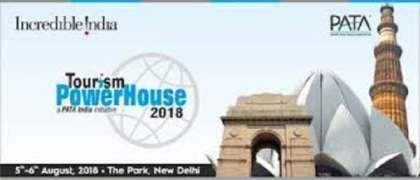 Tourism Power House: Disruption is not so bad
Even as technology continues to grow at a rapid unprecedented pace in the travel industry, players should watch out for and keep in mind that things like disruption are actually not so bad by itself and local experiences by visitors are important. These were some of the take-aways at the two-day Tourism Power House 2018 event organized by PATA India in Delhi on August 5 and 6.
Learning was a daily affair at the event and was not confined to training, as pointed out by Mario Hardy, PATA CEO, while summing up his and others' thoughts and views today.
The unique exclusive experiences must be shared and the goals of sustainable development must be kept in mind and implemented, he said. The CEO noted that PATA's efforts to reduce food waste were laudable.
Luxury travel will continue to grow, said Massimo Tocchetti from Italy, quoting figures from varied segments. Digital Marketing was in focus as presentations made by Balaji Vishwanath, Jose Leon, and Nikil Kumar who shared their perspectives.
The focus on winning the millennial traveler was the theme of Oliver Martin of Twenty31 consulting for his presentation.
The Tourism Power House on Sunday evening as well as today left much food for thought – and hopefully action – among the young and seasoned delegates.
Read more about day one here.