Mauritius staged its Outbound Travel Fair last weekend and thousands turned up to benefit from the discounted packages that were on offer if purchased at the fair itself.
It was Tourism Minister Anil Gayan who officially opened the 2018 Pret a Partir Fair. Minister Gayan, accompanied by the organisers and Arvind Bundhun, the Director of the MTPA (Mauritius Tourism Promotional Authority), said as he addressed the large crowd present that it was important for Mauritians to travel because that would in return ensure they better appreciated their own island nation, that was now one of the most sought-after holiday destinations.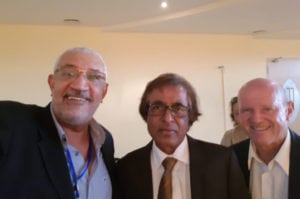 Azeddine Bouali of Reunion, Minister Anil Gayan & Alain St.Ange
Local travel companies and airlines serving Mauritius were all busy on their respective stands selling the region and the world to Mauritians who were planning their next holidays.