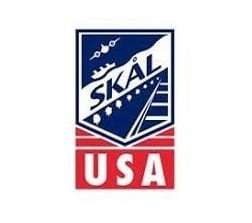 Skal International USA delegation raises national industry visibility at IPW
Skal International USA leaders' delegation, led by President Burcin Turkkan of Skal Atlanta with Vice President David Ryan of Skal Sacramento and Director Steve Richer of Skal Washington, worked the floor of the 50th anniversary edition of IPW, the largest inbound travel show in the United States in late May at the Denver Convention Center.
Over 6000 delegates attended the event, representing American destinations and travel product who were selling to buyers of travel to the United States who came from over seventy countries. The trade show is organized by the US Travel Association and sponsored in a major way by the national tourism marketing agency, Brand USA. The leaders of both organizations, Roger Dow, President of US Travel, and Chris Thompson, President of Brand USA, are members of Skal International in its Washington club.
During the three days of IPW, Turkkan and her team met with national travel industry leaders, some of the international buyers, and dozens of local tourism officials who either presently are involved in Skal clubs or have an interest in starting ones in their communities. The Skal team had discussions with representatives from more than forty states during the three days.
Turkkan reported, "Our presence at IPW, thanks to the cooperation of US Travel, was another big boost to demonstrating that Skal is a way for communities engaged in the travel industry to have a strong local organization that supports tourism at every level, mentors younger people within the industry, develops careers, grows business through our global network, and gives back to the home area in which a club is located.
"Our conversations from coast to coast and even the American islands demonstrated a renewed interest in Skal and what it brings to the industry, its communities, and, most importantly, its members."
"Our national executive committee will be digesting these conversations and target a small number of communities for new Skal clubs in 2018, while prioritizing strengthening existing ones and adding other locales for clubs in 2019 and beyond. We had so many good dialogues that it will take a little time to evaluate where to concentrate our efforts immediately."
Skal International USA has been growing its clubs. Starting in 2017, clubs were added in Richmond, Virginia, and Southwest Florida with new ones due to be finalized this year in Central California and the Valley of the Sun (Phoenix area), Arizona.
Skal International USA is currently the largest National Committee in Skal International with 2,000 members and 49 clubs nationwide.
Related