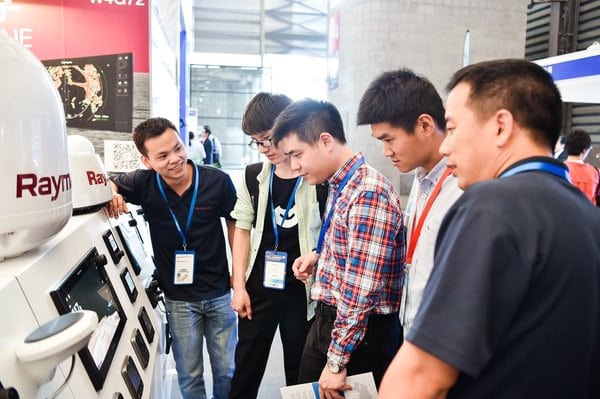 Shanghai International Boat Show 2019 brings exciting changes for exhibitors
After the record breaking success at China (Shanghai) International Boat Show (CIBS) 2018, the newly located CIBS2019 has opened for bookings. Taking advantage of the aquatic season in China, the 24th edition of the iconic boat show will take place June 20 – 23 at its new home, the National Exhibition and Convention Centre (Shanghai) (NECC).
What can be expected?
The NECC, offering 28,000 sqm of exceptional display area and renowned for its prime location, will accommodate more exhibitors while attracting more professional buyers. The show will benefit from generous investment from the government to enhance facilities at the NECC before it hosts the very first China Export Expo, taking place there very soon. The NECC is located in close proximity to the railway station, international airport, and the metroline, which is only 20 minutes away from the city center.
Why CIBS2019?
Last year CIBS welcomed more than 600 exhibitors. Over 20 new products were launched by big brands, including Honda, Suzuki, Beneteau, Jenneau, and JetSet, who chose CIBS as the platform to unveil their latest innovations to 35,061 visitors from over 70 countries (a 15% increase on visitors in 2017).
CIBS offers exhibitors an unrivaled opportunity for sales. More than 29% of the visitors to CIBS2018 were looking for new suppliers, with a high proportion looking to source new products. Many of our biggest brands enjoyed huge sales success at CIBS2018, closing deals on many high value product orders. Our new location offers exhibitors even more opportunity for sales at CIBS2019. Exhibitors can book a spot at www.boatshowchina.com/en-us/exhibitors-products/spacebooking-form.
In addition we will feature our usual show-stopping features, including:
• The Superyacht Showcase and Leisure Carnival
• Exhibitor Search Tool
• Educational program and forums featuring industry experts
• ASIAN MARINE & BOATING AWARDS (AMBA)
• Sailing for kids charity regatta
• CIBS 2019 will also run alongside the Lifestyle show.
John Pfeifer: "It is unbelievable how much the show has developed, how big and how professional it has become, how the boating industry is growing in China."
Tan Qi: "CIBS is like an old friend to Garmin. As we value the China market very much, CIBS is the best platform for Garmin to showcase our latest technology and products."
Thibaut: "CIBS is obviously the longest standing boat show in China, we participated in this show since the very first day. It is playing a very important role to grow the boating industry in China."