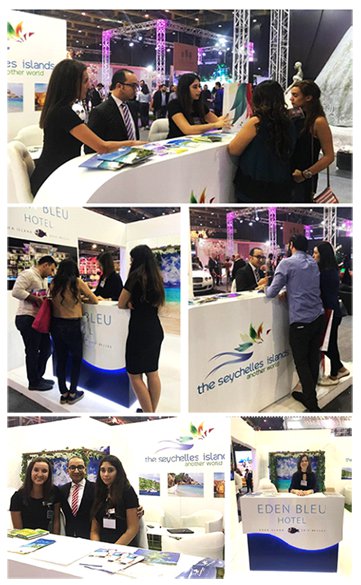 Seychelles Tourism Board Office in Dubai appears in "The Royal Wedding" in Beirut
Seychelles Tourism Board (STB) successfully participated in this year's "The Royal Wedding" held at the Forum de Beyrouth, Lebanon from October 25-29.
The STB Office in Dubai has initiated the first-time participation for this event in partnership with Eden Bleu Hotel was an opportunity to personally interact with the brides to-be from across the country in one central location.
"The Royal Wedding" is the ideal platform for the destination to get closer to the potential clients seeking to have a destination wedding or for honeymoon makers.
STB Office representative in Dubai, Ahmed Fathallah, who was present at the wedding fair, had the opportunity to display Seychelles as the perfect destination to tie the knot and for honeymooners. Mariia Revenko, Sales and Events Coordinator representative from Eden Bleu also present at the event offering attractive packages for honeymoon stays. The team also acknowledged quite a bit of enquiries from couples wishing to have their wedding ceremonies conducted in Seychelles.
Speaking about the event STB representative, Mr. Fathallah mentioned that the STB Dubai office's participation to "The Royal Wedding" event had many objectives considering Lebanon is one of the essential markets.
He further mentioned that the team considered the great exposure the destination got from a different event with a similar category from last year. He stressed that this year's participation at "The Royal Wedding" was to further develop the good relationship that has been initiated, as well as attract the right clientele and build a strong interest in the destination among the newlyweds and honeymooners.
In line with the objective to build a strong interest in the destination, the STB Office in Dubai have also launched tactical promotional campaigns showcasing the destination in print and digital. The initiative was achieved in close partnership with Wild Discovery, which has the largest network of travel agencies in Lebanon.
The aim to further boost honeymoon reservations to the destination and further position Seychelles as a prime destination among their vast network of clientele. A few of the promotional campaign will run for one month through LED screens on their branches and on their official website.
"The destination is consistently becoming popular in the Lebanese community and we are very pleased on the result of the 5-day event. Having a continuous presence serves a reminder about the product and its offerings not just among the newlyweds and honeymooners but among the consumers in general," said Mr. Fathallah.