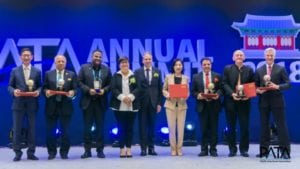 PATA honours industry leaders
The Pacific Asia Travel Association (PATA) has presented a series of awards to several individuals in recognition for their contributions to the responsible development of travel and tourism in the Asia Pacific region.
The following awards were presented during the PATA Annual Summit 2018 in Gangneung, Gangwon Province, Korea (ROK): PATA Life Membership, PATA Award of Merit, PATA Chairperson's Award, PATA Face of the Future Award and a PATA Honorary Membership Award.
"The PATA Annual Summit is the perfect opportunity to recognise industry leaders that have contributed to the responsible development of the travel and tourism industry. In line with the theme of the event, 'Building Bridges, Connecting People', this year's recipients embody the spirit of collaboration and cooperation that is essential to the success of the industry," said PATA CEO Dr. Mario Hardy. "I would like to congratulate all the winners for their valuable contributions and also thank them for their continued support to both PATA and the travel and tourism industry."
PATA Life Membership was awarded to Mr. Basant Raj Mishra, Executive Chairman – Venture Travel (Temple Tigers) Nepal, Nepal and Mr. Soon-Hwa Wong, CEO – Asia Tourism Consulting Pte., Ltd., Singapore. The award is the Association's highest individual honour and recognises significant leadership and invaluable dedication to PATA.
Mr. Mishra has been active in the PATA Nepal Chapter and PATA International since 1988 and has served on many committees including the PATA Board and PATA Foundation. He was also PATA's former Secretary/Treasurer.
He is well-known in the field of tourism and conservation, having vast experience in cultural, adventure, and wildlife tourism. Mr. Mishra is very active and enthusiastic in promoting tourism and has served as a member of many national and international boards of trustees. He is currently running a very successful company for the last 37 years in Nepal and abroad and has received many national and international awards.
Mr. Soon-Hwa Wong has a long association with PATA dated back to 1996 and has served in various capacities over the years. Presently he serves as the Chairman of the PATA Singapore Chapter as well as an Executive Board Member.
Currently, he is consulting for a major development project in Yunnan, China to enhance two-way tourism between Yunnan and ASEAN in the One Belt, One Road initiative. As way of paying it forward, he provides pro-bono services in mentoring startups and university students in his alma mater besides serving in several social committees.
The PATA Award of Merit is reserved for individuals who have consistently contributed to PATA and the PATA Chapter network over an extended period. This year's award was presented to Mr. Andrew Jones, Guardian – Sanctuary Resorts, Hong Kong SAR and Mr. Akbar A. Shareef, Managing Director & Chief Executive – Rakaposhi Tours (Private) Ltd., Pakistan.
As part of his PATA service to the industry, Mr. Jones is a former PATA Chairman, a former member of the Board of Trustees for the PATA Foundation, and an advisor on Corporate Social Responsibility (CSR) and Responsible and Sustainable Tourism for PATA. He was also previously the Vice Chairman and Chairman of the PATA Hospitality Committee and is a member of the World Travel Market World Responsible Tourism Day Advisory Panel.
Mr. Shareef became member of PATA in 1991 and held the position of Member Secretary and Chairman of the PATA Pakistan Chapter, where his contribution towards tourism and service to PATA were highly appreciated at all levels.
The PATA Chairperson's Award was presented by outgoing Chairperson Ms. Sarah Matthews, Head of Destination Marketing APAC – TripAdvisor to Mr. Stephen Pearce, Vice President, Marketing – Tourism Vancouver, Canada.
Mr. Pearce is a strategist with a passion for tourism, travel, and marketing. He sees himself as a change-agent; negotiating and building strategic alliances with public and private businesses to achieve long-term goals. Curiosity, risk, creativity and innovation underscore his approach to market synthesis and competition.
He has worked with public and private companies across Canada and has been with Tourism Vancouver since 2001, where he is currently the Vice President, Marketing. His responsibilities include consumer marketing, digital, media/communications, research and business analytics. Recent initiatives have included development of a new destination brand strategy and Tourism 2030; a roadmap to Vancouver's tourism future.
The PATA Face of the Future award for 2018 was presented to Mr. Abdulla Ghiyas, President – Maldives Association of Travel Agents and Tour Operators (MATATO), Maldives. This award is presented annually to an exceptional 'rising star' in the industry, having exhibited initiative and leadership in the advancement of tourism as well as demonstrating a commitment to the sustainable development of the Asia Pacific travel industry in line with PATA's mission. It is the most prestigious honour for young tourism professional in the Asia Pacific region.
Mr. Ghiyas is the President of the Maldives Association of Travel Agents and Tour Operators (MATATO) – one of the most active NGOs in the Maldives dedicated to fostering and promoting the sub-industry of local travel agents. He is also a serial entrepreneur engaged in leading travel businesses and startups. In addition, he is the Deputy Managing Director of Inner Maldives Holidays, one of the largest inbound and outbound travel agency in the Maldives, and a Director for Ace Travels Maldives and Spence Maldives, which are joint ventures with Sri Lankan blue chip conglomerate Aitken Spence PLC.
The PATA Honorary Membership Award was awarded to Mr. Young-bae Ahn, President of the Korea Tourism Organization (KTO), as recognition to the host of the PATA Annual Summit 2018.
Related
yahoo