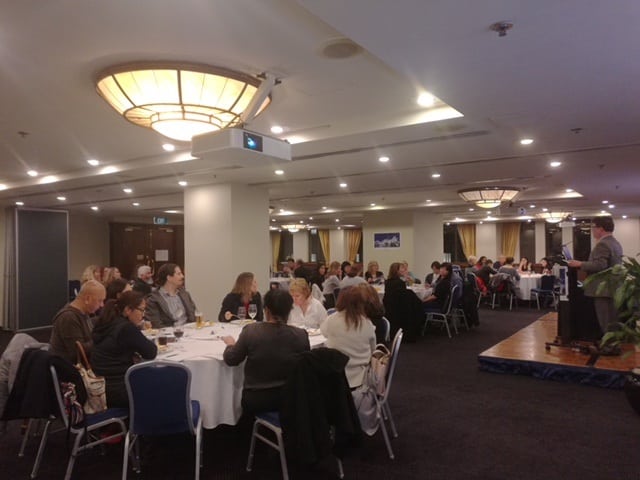 Nepal Tourism sales mission draws Australian travel wholesalers' attention
Nepal Tourism Board (NTB) organized Nepal Sales Mission in three major Australian cities: Melbourne, Sydney and Brisbane from 2nd to 5th July 2018 in coordination with Hotel Association Nepal (HAN).
NTB promoted Nature, Culture, Wildlife and Adventure activities of Nepal in Australia. In addition to Mt. Everest, Lumbini, Himalayas and adventure, NTB also portrayed Nepal as the center of peace and harmony, spirituality, yoga and meditation. Cultural Heritage of Nepal, both tangible and intangible, also featured prominently in the show. The Sales Mission highlighted the most conducive environment in Nepal for travel and Visit Nepal Year 2020 campaign with comprehensive information about Australia-Nepal air connectivity, visa regulations and all sorts of facilities available in Nepal for Australian tourists.
Mr. Laxman Gautam, Senior Manager of NTB made exclusive and detailed presentations on various facets of tourism in Nepal to whole seller travel agents in all the three cities. Major whole seller travel agents and media based in the above mentioned cities of Australia showed up in the programs and expressed deep interests in Nepal. Honorary Consulate of Victoria Mr. Chandra Yonzan welcomed participants in Melbourne, while Honorary Consulate of New South Wales Mr. Deepak Khadka and Honorary Public Relations Representative of NTB for Queensland Mr. Swotantra Pratap Shah made welcome remarks in Sydney and Brisbane programs respectively.
NTB delegation also made a presentation to Australian business personalities, US Consulate based in Victoria-Australia, some Members of Parliament of the State of Victoria in Melbourne on 31st of July in the dinner session of investment forum organized jointly by Nepal Embassy in Australia and Nepal's Consulate Office in Victoria. In addition, an exclusive travel media conference was held in Sydney in the presence of leading media persons working in travel trade sector of Australia.
The Sales Mission attracted more than 130 tour operators and 20 media representatives in the three cities. NTB also awarded 'six night seven days" Nepal trip to winners of lucky draw conducted in each city.
NTB has identified Australia as a country with huge potential for market expansion. 33,371 Australian visitors visited Nepal in the year 2017 and the market is expanding in a good pace.
Hotel Barahi, Hotel Manang and Hotel Glacier from Nepal were on board in the Sales Mission along with Nepal Tourism Board.
yahoo