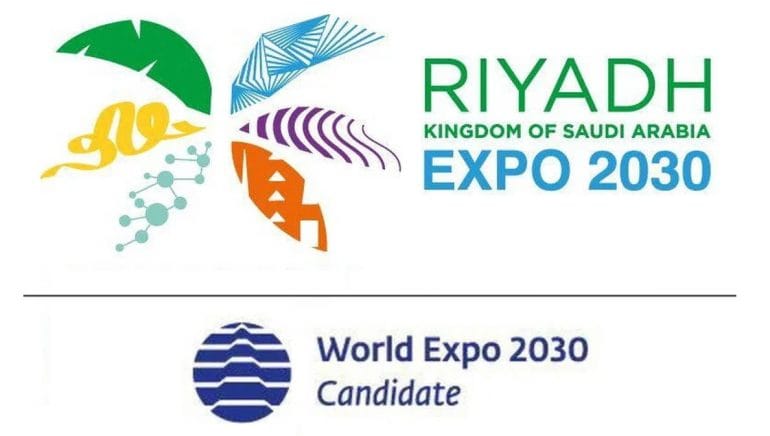 Meetings & Convention News: World Expo 2030 + Vision 2030 = Saudi Arabia
The most recent World Expo took place in Dubai, the United Arab Emirates, between 1 October 2021 and 31 March 2022. The next World Expo will take place in Osaka, Kansai, Japan between 13 April and 13 October 2025.
The vote for World Expo 2030 will take place this year, and has three candidates:
The Republic of Korea's candidature is for a World Expo in Busan between 1 May and 31 October 2030 under the theme "Transforming Our World, Navigating Toward a Better Future".
Italy's candidature is for a World Expo in Rome between 25 April and 25 October 2030 under the theme "The Horizontal City: Urban Regeneration and Civil Society"
Saudi Arabia's candidature is for a World Expo in Riyadh between 1 October 2030 and 1 April 2031 under the theme "The Era of Change: Leading the Planet to a Foresighted Tomorrow". 
For many connected to the travel and tourism industry, the only logical choice for the World Expo 2030 is Saudi Arabia – and here is why.
Milan, Italy hosted the World Expo in 2015. Comparing the current and expected development in South Korea and Saudi Arabia, the excitement, the changes, and the vision will be in Riyadh, with Air Riyadh expected to be the largest brand-new airline in the world, with hundreds of destinations, and the world's largest and newest airport.
The Kingdom of Saudi Arabia has a Vision for 2030:
A vibrant Society
A thriving Economy
An ambitious Nation
Working towards this vision the Kingdom of Saudi Arabia is going through transformation, a steadfast commitment to achieving its goals by 2030.
Working towards this vision billions have been spent and many more billions will be invested in mega projects unseen to human mankind.
It is for the world to see and experience because tourism and heritage is one of the key content of this development.
Tourism is an integrated part of the World Expo and Saudi Arabia
With the launch of e-visas and the opening of the country to most foreign visitors initiatives in the areas of archaeology, culture, education, and the arts are being undertaken to preserve the Kingdom's rich heritage and natural beauty, while opening it up to the world. Major events like the Red Sea International Film Festival and the Saudi Arabian Grand Prix are attracting visitors and showcasing the Kingdom's warm hospitality.
Additionally, as a central location in the Arab and Islamic world, Saudi Arabia is enhancing its facilities and services to provide pilgrims with an unforgettable spiritual experience. As it welcomes the world to come and experience its unique offering, the Kingdom's breathtaking beauty and rich heritage make it a must-visit destination.
In addition, the Saudi minister of tourism HE Ahmed bin Aqil al-Khateeb is seen as an undisputed global leader, setting new trends on every front, and not only in Saudi Arabia.
When tourism went through its toughest challenge with COVID-19 the first to answer calls from countries around the world was HE Ahmed bi Aqul al Khateeb. His progressive ministry with an international dream team in place responded to situations by assisting the world at a time when everyone else was hardly able to keep the lights on.
Vision 2030 and World Expo 2030 – a winning combination for the world
Under the guidance of the Custodian of the Two Holy Mosques King Salman bin Abdulaziz al Saud, embarked on a journey towards a brighter future with the launch of Vision 2030. Conceived by His Royal Highness Prince Mohammed bin Salman bin Abdulaziz, Crown Prince and Prime Minister, this roadmap leverages our God-given strengths, including our strategic location, investment power, and centrality in the Arab and Islamic worlds. Our leadership is fully committed to realizing our ambitions and maximizing our potential.
Vision 2030 defined by the Kingdom of Saudi Arabia
Why would the World Expo in Saudi Arabia be the logical choice for 2030
Saudi Arabia today is different from what it was just a few years ago. Citizen empowerment, including women empowerment, is helping businesses to reach their full potential, diversify one of the fastest-growing economies, support local content, and create innovative growth opportunities.
A country of young educated people ready to welcome the world with open arms.
Out of the many mega projects being developed in Saudi Arabia, The Line symbolizes everything Saudi Arabia is setting out to achieve through Vision 2030.
The Line, this futuristic mega city in progress, commits itself to a post-oil future, builds livable spaces with economic opportunity, and sets the standard of a futuristic city for others around the world to emulate.
Everything developing today in Saudi Arabia is based on Vision 2030. Fulfilling this vision with a 2030 World Expo, and sharing the outcome with those exhibiting would be a logical conclusion and an opening for a new chapter.
What is the World Expo?
World Expos, officially known as International Registered Exhibitions, is a global gathering of nations dedicated to finding solutions to pressing challenges of our time by offering a journey inside a universal theme through engaging and immersive activities.
World Expos welcome tens of millions of visitors, allow countries to build extraordinary pavilions, and transform the host city for years to come.
The first World Expo – the Great Exhibition – took place in London in 1851. The concept became popular and was repeated across the globe, demonstrating an unparalleled power of attraction and a record of world-class legacies. Since the BIE was created in 1928 to regulate and oversee these mega-events, World Expos have explicitly been organized around a theme that attempts to improve humankind's knowledge, takes into account human and social aspirations, and highlights scientific, technological, economic, and social progress.
World Expo 2030 in Riyadh:
Saudi Arabia's bid is for a World Expo in the city of Riyadh between 1 October 2030 and 31 March 2031 under the theme "The Era of Change: Together for a Foresighted Tomorrow".
The three sub-themes reflect the aspiration to mobilize the global community towards an inclusive, re-energized world in which science and technology are in service of a better future for humanity:
A Different Tomorrow – Science, innovation, and pervasive technologies hold endless opportunities to develop new tools for people and their communities provided they consider the social and environmental effects of economic success.
Climate Action – The impact of climate change is rapidly accelerating, requiring creative solutions to manage our resources and to look after our precious ecosystems.
Prosperity for All – A better future is for all and should proactively include the voices, needs, and contributions of everyone celebrating our differences as sources of strength.
Proposed Site
The site – Designed as a futuristic city around an ancient wadi (valley), the site embodies both the "oasis" and "garden" origins of Riyadh and the vision of the country to pioneer a sustainable future for cities and their communities.
Compact and inclusive – A compact and inclusive site, focused on immersive experiences across both pavilions and the public realm.
Total size – 600 ha.
Strategic location – Located North of Riyadh, in close proximity to King Khalid International Airport (KKIA) and to the prestigious King Abdullah Petroleum Studies and Research Center (KAPSARC), as well as directly connected to the city's most iconic destinations.
Moreover, it would be the only World Expo site in the world to be located at only one metro station away from the airport.
About Riyadh
The heartbeat of the region – Riyadh (meaning "gardens" in Arabic) started as a thriving oasis and is the capital city of Saudi Arabia and the political, economic and cultural center of the Middle East.
A catalyst for change – Riyadh is the catalyst for change in the Kingdom, having embarked on an ambitious investment program to become an ever more sustainable and energy-filled destination, with a central focus on ranking amongst the most liveable cities in the world.
A diverse and multifaceted city – Riyadh's vibrant economy makes it a preferred destination for global businesses and talent while the social and community focus is on establishing it as a prime center for health, education, and research facilities.
Ready to host the world – Through its city landmarks and attractions, its lively cultural scene, and open visa policy, Riyadh is rapidly advancing in the ranks of the most visited cities in the world.
View the full list of all World Expos since 1851
World Expo 2030 + Vision 2030 = Saudi Arabia
SOURCE: Read More