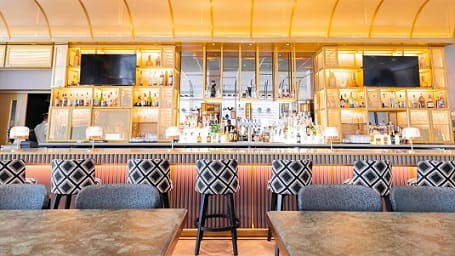 Meetings & Convention News: The St. Regis San Francisco Partners with Wild Oyster Project
The St. Regis San Francisco, the city's premier five-star address renowned for its gracious, bespoke service and timeless elegance, has partnered with the Wild Oyster Project to help restore native oysters to the San Francisco Bay. Through the Wild Oyster Project's Oyster Shell Recycling Program, the shells of oysters purchased at The St. Regis Bar are recycled to build native oyster reefs, reducing erosion along the shorelines and restoring threatened ecosystem processes, including the vital task of filtering the murky waters of the San Francisco Bay.   
"We are proud to add the Wild Oyster Project to our growing list of sustainability partners," said Roger Huldi, general manager of The St. Regis San Francisco. "Sustainability is at the core of our operations and offerings, and we are always looking for new and creative ways to support and better our environment."   
The St. Regis San Francisco is a San Francisco Green Certified Business and a California Green Lodging Program participant.
It partners with Clean the World, a global hygiene revolution that distributes recycled soap and hygiene products; EcoLab, which aims to reduce water intensity by 15%, to reduce carbon intensity by 30%, and reduce landfill waste by 45% by the end of 2025; Recology, a waste management company, for recycling and composting throughout the hotel; and Food Runners, a volunteer-based grassroots organization that picks up excess perishable and prepared food and delivers it directly to neighborhood food programs. The property is TripAdvisor GreenLeaders Certified, Audubon Green Lodging Program Certified, and Green Globes Certified. Electric car charging is also available to guests onsite.   
To support Wild Oyster Project's initiatives, a delicious selection of raw oysters is available at The St. Regis Bar. In addition to the exceptional bar menu offerings, the new Champagne À La Cart is available daily from 5 to 6 pm. The champagne cart service features a thoughtfully curated menu, including Oyster on the Half Shell with Paddlefish Caviar and champagne gelée flavored with ponzu. It also includes spoons of Paddlefish Caviar and Kaluga Hybrid Caviar, bite-sized Blini, and sweet confections handcrafted by the hotel's Pastry Chef. 
The recently reimagined bar creates a welcoming atmosphere that epitomizes Northern California luxury. A color palette of Pacific Ocean blues and warm pastels evokes sunrises and sunsets over the Bay. A sweeping brass trellis inspired by the city's iconic trolley lines rises overhead from the back bar before forming a series of beautifully illuminated display boxes and floating glass shelves.    
Cocktails
Serving handcrafted cocktails and elevated restaurant fare, The St. Regis Bar is open daily from 12 pm – 12 am. For more information, please click here. 
About The St. Regis San Francisco:  
The St. Regis San Francisco opened in November 2005, introducing a new dimension of luxury, uncompromising service, and timeless elegance to the city of San Francisco. The 40-story landmark building, designed by Skidmore, Owings & Merrill, includes 102 private residences rising 19 levels above the 260-room St. Regis Hotel. From legendary butler service, anticipatory guest care, and impeccable staff training to luxurious amenities and interior design by Chapi Chapo of Toronto, The St. Regis San Francisco delivers an unmatched guest experience. The St. Regis San Francisco is located at 125 Third Street. Telephone: 415.284.4000. 
The St. Regis San Francisco Partners with Wild Oyster Project
SOURCE: Read More