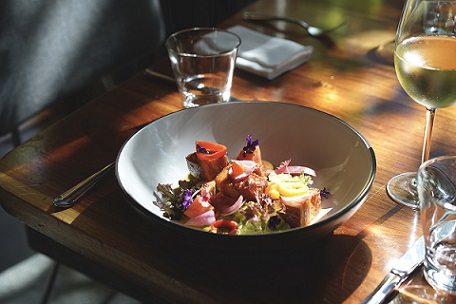 Meetings & Convention News: Spoonbar Introduces Vibrant New Dinner Menu at h2hotel
Located in the heart of Northern Sonoma Wine Country, the h2hotel is positioned in the heart of downtown Healdsburg where it is part of a renaissance of chic and upscale hotels as well as hip restaurants nestled along the Russian River which offers small-town charm with stunning vistas.
Spoonbar's Vibrant New Menu
At the signature Spoonbar restaurant in h2hotel, playful starters, handmade pastas, and market-driven mains are as artful as the restaurant's airy interior. And with a critically acclaimed cocktail program, the atmosphere is as fresh and vibrant as the food.
This contemporary American restaurant serves creatively crafted cuisine in a hip environment with artisanal seasonal cocktails and wine and California cuisine in an welcoming dining room opening on to the sidewalk or on the back-garden patio.
From plate to place, everything about Spoonbar is a rich alchemy of art and craft.
The vibrant new dinner menu is designed to tantalize the taste buds and celebrate the vibrant flavors of the season.
Guests will embark on a journey of fresh flavors with such dishes as the Laura Chenel Goat Cheese Salad made with crisp local lettuces and topped with fresh berries and candied walnuts. Or they may choose to savor a Lobster Stuffed Avocado served alongside gaufrette potato chips.
For the main course, prepare guests will be captivated by the Grilled King Salmon served with cucumber carpaccio, potato croquette, and caviar crème fraîche. Or is the preference is land over sea, the tender Grilled Lamb Loin awaits.
The full dinner menu can be found here: Dinner Menu | Spoonbar
Spoonbar also offers Happy Hour from 4 p.m. to 6 p.m., Friday through Sunday, and from 5 p.m. – 6 p.m., Tuesday through Thursday.
From Seafood Sundays serving up Marin Miyagi Oysters and Local Rockfish to Weekly Specials of delectable Fried Chicken + Fixins on Wednesdays to Moroccan Night on Thursdays, Spoonbar welcomes guests to keep returning to enjoy its fresh cuisine and warm ambiance.
SOURCE: Spoonbar Introduces Vibrant New Dinner Menu at h2hotel
SOURCE: Read More