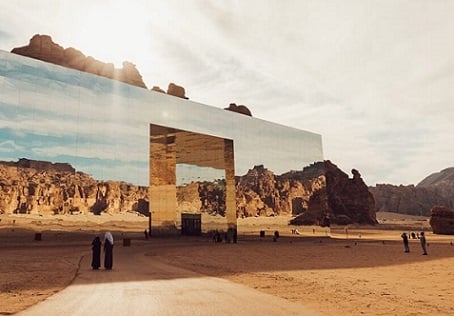 Meetings & Convention News: AlUla World Archaeology Summit Teaches the Future From the Past
Learning about the future from the past provided meaningful discussions at the AlUla World Archaeology Summit ranging from the usefulness of ancient wisdom in a modern context to digital archaeology and inclusive archaeology. Topics reflected the ambition of the summit with its four broad themes of identity, ruinscapes, resilience, and accessibility. Interdisciplinary conversations moved beyond the specialist mindset to promote archaeology to wider audiences.
Abdulrahman Alsuhaibani, Executive Director of Archaeology, Conservation and Collections at the Royal Commission for AlUla (RCU), said:
"This summit was exceptional. It was unique."
"We discussed topics vital to the future of archaeology with a broader perspective – and I hope we continue the discussion."
Organized by RCU, the World Archaeology Summit included over 80 speakers and 50 youth delegates who participated in the Future Forum. They represented 167 institutions including 65 universities and a gender ratio of  47% female to 53% male.
A new prize for young archaeologists was announced on the summit's final day – the AlUla World Archaeology Summit Award of Excellence. This prestigious award is to be given at future summits and will promote the science of archaeology, Dr. Alsuhaibani said, explaining more details will be announced later.
AlUla's in Saudi Arabia is a hub of archaeological activity, and RCU is sponsoring one of the world's largest archaeological research programs across AlUla and Khaybar with 12 current surveys, excavations, and specialist projects. Rich cultural landscapes are being revealed, including funerary avenues, mustatils, ancient cities, inscriptions in 10 languages, rock art, and complex agricultural practices. In 2008, AlUla's Hegra was inscribed as Saudi Arabia's first UNESCO World Heritage Site.
AlUla Shines a Light On the Future Through Archaeology
This gathering of leaders from academia, government, non-government organizations, industry, and young people representing the next generation of archaeologists was created to not only enrich the archaeological community and help protect shared history but also to open up a larger reflection of what and how archaeology, and more broadly cultural heritage, can contribute to transformational changes in society. It offered delegates a platform for advancing archaeology and cultural heritage management in their interface with other disciplines.
With future being the theme of how archaeology which is normally thought of as history as the summit's guiding force, young people engaged in a Future Forum platform through meaningful dialogue and debate about the future of archaeology. It offered a space for them to develop their own perspectives and ideas and contribute to the conversation in fundamental ways.
AlUla: The World's Masterpiece
The city of AlUla is a place of extraordinary human and natural heritage, referred to as the World's Masterpiece. It is a living museum of preserved tombs, sandstone outcrops, historic dwellings, and monuments, both natural and human-made, that hold 200,000 years of largely unexplored human history. The Kingdom of Saudi Arabia has long been a crossroads of ancient civilizations — a place of deep history, but one that is constantly evolving.
AlUla became a vital crossroads along the famous incense-trading routes running from southern Arabia, north into Egypt, and beyond. With oases dotting the area, it offered a much-needed respite for weary travelers, becoming a popular place to rest, commune. and recharge.
It was also capital of the ancient kingdoms of Dadan and Lihyan, which controlled the caravan trade. Hegra and was the principal southern city of the Nabataean kingdom, famed for its spectacular monumental tombs. Today, Old Town AlUla is an abandoned labyrinth of streets tightly packed to create a defensive wall, and seemingly built over an ancient settlement.
This largely undiscovered expanse holds a timeless mystery that has been carried through its complex history. Layer upon layer of human history and a wealth of natural wonders are waiting to be explored, from dramatic rock formations and sand-swept dunes to archaeological ruins that trace the lives of the ancient cultures who built cities here.
SOURCE: AlUla World Archaeology Summit Teaches the Future From the Past
SOURCE: Read More