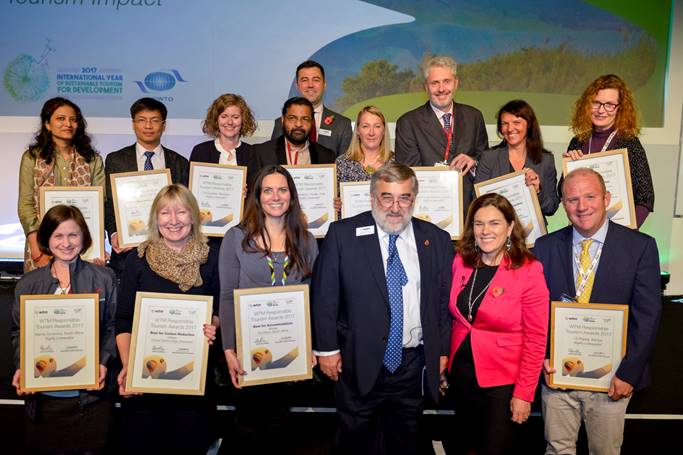 Just released: 18 finalists for the 2018 WTM World Responsible Tourism Awards
The 18 finalists for the 2018 WTM World Responsible Tourism Awards have been announced, covering everything from multinational travel companies, destinations and NGOs, to a single homestay. They come from all across the world, from Sri Lanka and India to Spain, South Africa, the UK and the USA. Some work globally, while others are committed to the local region where they are based. All share a commitment to developing tourism as responsibly as possible.
About World Travel Market
World Travel Market (WTM) portfolio comprises six leading B2B events across four continents, generating more than $7 billion of industry deals. The events are:
WTM London, the leading global event for the travel industry, is the must-attend three-day exhibition for the worldwide travel and tourism industry. About 50,000 senior travel industry professionals, government ministers and international media visit ExCeL London every November, generating about £3.1 billion of travel industry contracts. http://london.wtm.com/. Next event: 5-7 November 2018 – London.
Travel Forward is a new travel technology event co-located with WTM London 2018 and part of the WTM portfolio of events. The inaugural Travel Forward conference, exhibition and buyer programme will take place on 5–7 November 2018 at ExCeL London, showcasing next-generation technology for travel and hospitality. http://travelforward.wtm.com/.
WTM Latin America attracts about 9,000 senior executives and generates about US$374 million of new business. Taking place in Sao Paulo, Brazil, this show attracts a global audience to meet and shape the direction of the travel industry. More than 8,000 unique visitors attend the event to network, negotiate and discover the latest industry news. http://latinamerica.wtm.com/. Next event: 2-4 April 2019 – Sao Paulo.
WTM Africa launched in 2014 in Cape Town, South Africa. Nearly 5,000 travel industry professionals attend Africa's leading inbound and outbound travel and tourism market. WTM Africa delivers a proven mix of hosted buyers, media, pre-scheduled appointments, on-site networking, evening functions and invited travel trade visitors. http://africa.wtm.com/. Next event: 10-12 April 2019 – Cape Town.
Arabian Travel Market is the leading, international travel and tourism event in the Middle East for inbound and outbound tourism professionals. ATM 2018 attracted almost 40,000 industry professionals, with representation from 141 countries over the four days. The 25th edition of ATM showcased over 2,500 exhibiting companies across 12 halls at Dubai World Trade Centre. To find out more, please visit: www.arabiantravelmarketwtm.com. Next event: 28th April-1stMay 2019 – Dubai.
About Reed Exhibitions
Reed Exhibitions is the world's leading events business, enhancing the power of face-to-face through data and digital tools at more than 500 events a year, in more than 43 countries, attracting more than seven million participants. Reed's events are held in the Americas, Europe, Asia Pacific and Africa and organised by 41 fully staffed offices. Reed Exhibitions serves 43 industry sectors with trade and consumer events. It is part of RELX Group plc, a world-leading provider of information solutions for professional customers across industries.
About Reed Travel Exhibitions
Reed Travel Exhibitions is the world's leading travel and tourism events organiser with a growing portfolio of more than 22 international travel and tourism trade events in Europe, the Americas, Asia, the Middle East and Africa. Our events are market leaders in their sectors, whether they are global and regional leisure travel trade events, or specialist events for meetings, incentives, conference, events (MICE) industry, business travel, luxury travel, travel technology as well as golf, spa and ski travel. We have more than 35 years' experience in organising world-leading travel exhibitions.
This year there were five categories that people could apply for: Best for Communicating Responsible Tourism, Best for Employment Conditions, Best for Local Economic Benefit, Best for Wildlife, and finally Best for Managing Success – which looks for destinations that are best coping with the demands of Overtourism. The 18 finalists for 2018 are;
African Ivory Route, Limpopo, South Africa
Associacio Marques de Pastor . El Cinque LlAC, Catalunya, Spain
Barcelona, Catalunya, Spain
Coconut Lagoon, Kerala, India
Fringe Ford, Kerala, India
International Institute for Environment and Development, Global
Intrepid Group, Global
Intrepid Colombo, Sri Lanka
Kumarakorum, Kerala, India
Madi a Thavha, Limpopo, South Africa
Mother Ivey's Bay Holiday Park, UK
National Trust, Northern Ireland
One Seed, USA
Rethink Orphanages, Global
Sri Lanka Wildlife Conservation
TUI UK & Ireland
Wildlife ACT, South Africa
World Animal Protection, Global
The Awards will be presented at WTM London on WTM World Responsible Tourism Day, Wednesday 7th November, where the Gold and Silver winners in the five categories will be announced. BBC presenter Tanya Beckett will also interview the Gold winners about their businesses and the initiatives they have been recognised for.
"To become a Finalist in the WTM World Responsible Tourism Awards is a significant achievement, it marks you out as a leader in Responsible Tourism; it carries a responsibility to exercise leadership," said Chair of the Judges Harold Goodwin. "Our purpose in organising the Awards has not changed since they were launched back in 2004 – we want to encourage change in the industry, to single out for recognition those who are taking responsibility and can evidence that they are having a positive impact, that they are making tourism better."