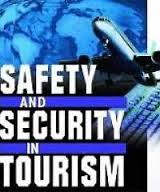 Jamaica Tourism Security team appointed
Visitor surety is a top priority for Jamaica Tourism. Dr. Andrew Spencer, Executive Director of the Tourism Product Development Company Ltd. (TPDCo) appointed Dr. Peter Tarlow, Partner of certified.travel, as the head of the new National Jamaica Tourism Security team. TPDCo is the organization charged with the responsibility for Destination Assurance under the directive by its Honorable Minister, Edmund Bartlett, MP.
This follows a number of meetings between Dr. Tarlow and the Hon. Edmund Bartlett, Jamaica Minister of Tourism, with Jamaica Minister of National Security, the Hon. Dr. Horace Chang, and senior members of the Ministry of Tourism (MOT) and its agencies.
eTN Chatroom: Discuss with readers from around the world:
---
Certified.travel is a joint subsidiary of the eTN Corporation and Tourism & More. Dr. Tarlow is a leading industry professional with specific expertise in such areas as:
The impact of crime and terrorism on the tourism industry
Event and tourism risk management
Tourism and economic development
Development of response models for security threats
Tourism police and private security personnel and the development of TOPPs units
Reputational repair or enhancement as needed
Visitor surety means for Jamaica:
The providing of a safe and secure environment for the Jamaica's visitors and for those who work in its visitor industry
Protection of the its tourism sites and infrastructure
Perceptions of Jamaica including how these perceptions impact its reputation
The protection of the nation's economy vis-à-vis its tourism industry
TPDCo's destination assurance initiatives and strategies are geared towards the following:
Jamaica National Development Plan, specifically, Jamaica's 2030 Vision goal; The Jamaican society is secure, cohesive and just
Ministry of Tourism Strategic Business Plan Ensuring the safety, security, and sustainability of the natural and built environments
MOT Tourism Pillar of Growth; New Partnerships
Dr. Peter Tarlow pointed out: "Tourism is the world's leading peaceful industry and a major economic development tool. The tourism industry is also security (crime and terrorism) sensitive, and a lack of tourism surety has a major impact on tourism and event-oriented economies. Additionally, when public officials are tourism-sensitive, they offer the general public better service, economic opportunities, and an improved standard of living.
"The hospitality industry's number one job is to protect its guests, and visitors demand safety and security by well-trained professionals. If the tourism industry fails in this regard, all else becomes irrelevant.
"Real security involves training, education, investments in software and the understanding that security is not a simplistic discipline or a passing phase. Tourism security personnel need continual training and must be flexible enough to adjust their procedure to a constantly-changing environment. One of the propositions to note is that as customer service increases, so does tourism security, and a better tourism product has the potential to increase national productivity, quality of life, and economic wellbeing. Security plus service and value for money will become the basis for 21st century tourism success!"
eTN Corporation President Juergen Steinmetz said: "We are excited to work with Jamaica Tourism on this important project. Adding Dr. Peter Tarlow to our portfolio of services and in forming certified.travel as a joined partnership is a game changer for the eTN Corporation, eTurboNews, and TravelMarketingNetwork."
Unfortunately, within the last few months, Jamaica has had to deal with several incidents that have challenged the perception of its security in relation to visitation safety. These incidents have impacted the perception of Jamaica's tourism product both locally and globally.
Jamaica's Tourism Minister, Hon. Edmund Bartlett, said: "We must safeguard the key aspects of destination assurance such as security, safety, and seamlessness of our tourism product. Dr. Peter Tarlow and the team will help us take a step in the right direction and provide insight in legislation that may be implemented to make the industry safer, as well as help us develop a new program on how to better relate and interact with international guests. His visit comes at a crucial point in the development of our product."
More information on the eTN Travel & Tourism Security Program : www.certified.travel