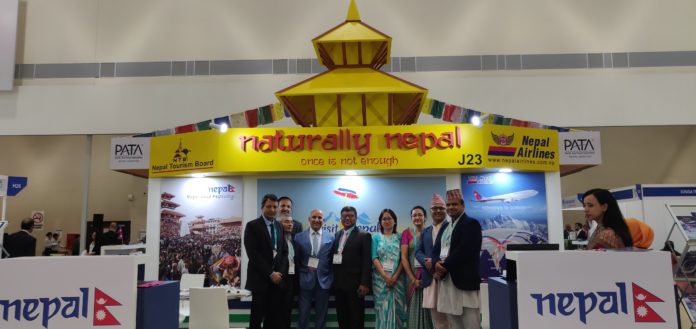 Impressive: Nepal Tourism Board at PATA Travel Mart 2018 in Langkawi
Nepal Tourism Board (NTB) and PATA Nepal Chapter (PNC) in collaboration with Nepal Airlines Corporation (NAC) organized an impressive and successful "Nepal pavilion" at the 41st edition of PATA Travel Mart (PTM2018) held from September 12-14 in Langkawi, Malaysia. The 10 different private sector tourism entrepreneurial companies from Nepal including Abhiwadan Expedition Holidays, Community Homestay Network, Da Yatra Courtyard, Going Nepal, Kailash Group Nepal, Himalayan Holidays Trekking, Langtang Ri Trekking and Expedition, Shangri-La Hotel and Resort, Nepal Holiday Makers Tours & Travels, and Up Everest Travels and Tours took part under Nepal Pavilion.
The PTM2018, hosted by Malaysia, has attracted over 1,400 delegates from 70 global destinations. The delegate numbers embraced 389 seller delegates from 208 organizations and 33 destinations with local sellers comprising 32% of the total, along with 252 buyers from 241 organizations and 53 source markets.
PATA also welcomed 210 local and international young tourism professionals including PATA Student Chapter members from Bangladesh, Canada, Malaysia, Nepal, Philippines, and Singapore who were part of the PATA Youth Symposium held on September 12. PATA Nepal Chapter facilitated the opportunity for 2 students, Ms. Tamanna Pradhan from IST College and Mr. Jigmay Singhay Lama from Mid Valley Int'l College who represented PATA Nepal Student Chapter at the PATA Youth Symposium.
The delegates had the chance to gain insights into product development, machine learning, data analytics, and artificial intelligence at the Travolution Asia Forum 2018, organized in partnership with Travel Weekly Group. Furthermore, for the first time at PTM, the world's 15 most innovative travel and tourism start-ups and pitched their business models to a jury panel at the World Tourism Forum Lucerne (WTFL) Start-Up Innovation Camp 2018.
NTB CEO, Mr. Deepak Raj Joshi informed that PTM is one of the prominent platforms to promote and showcase Nepal's diverse tourism offerings amongst more than thousands of delegates from around the world. He added "We are very happy to receive the increasing interest for destination Nepal by the world tourism communities, and our collaborative efforts and engagement with the private sector is also being very strong and effective for the promotion of tourism." Meanwhile Mr. Deepak R.Joshi, CEO chaired the PATA Destination/Government Committee Meeting where insightful presentations on how destinations can make them digitally strong were done by Mastercard and google. Mr. Joshi on the session expressed these sessions were base for this year's world tourism day theme "Tourism and the Digital Transformation".
Mr. Sunil Sharma (Sr. Manager- NTB) presented the unmatched features of Nepal's tourism and answered the queries of Int'l media delegates during the Int'l media briefing on September 13 at the Mahsuri International Exhibition Centre (MIEC).
The artfully designed Nepal Pavilion with the unique combination of traditional pagoda shaped temples and Stupa along with diversified natural, cultural and adventurous tourism assets of Nepal stood quite outstanding due to its unique design and branding; appreciated by all visitors. The interior and exterior design and set up of Nepal stall was also dedicated for the promotion of Visit Nepal Year 2020.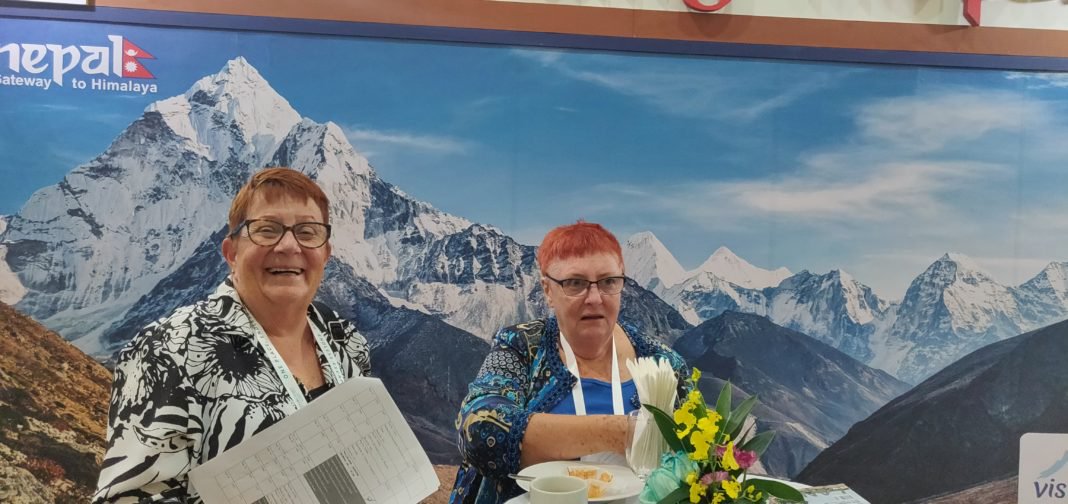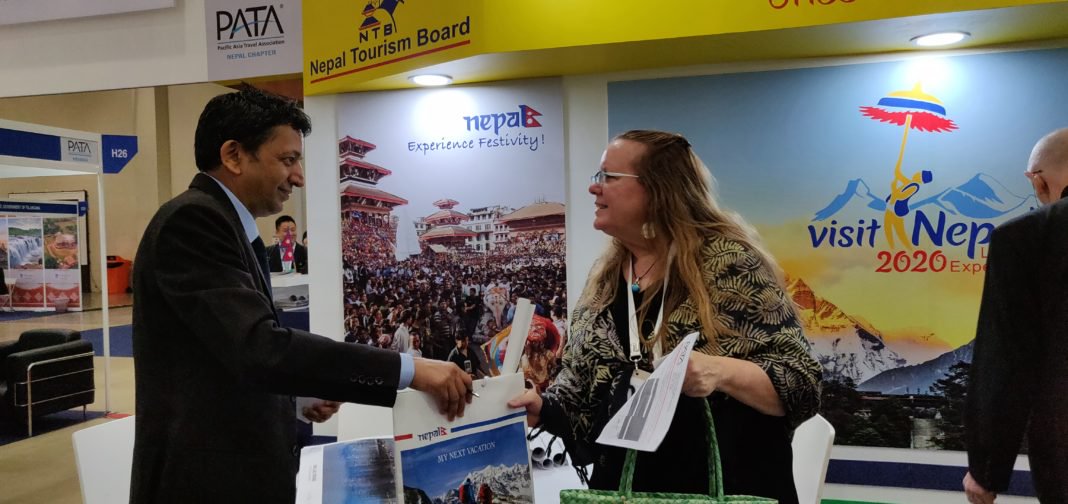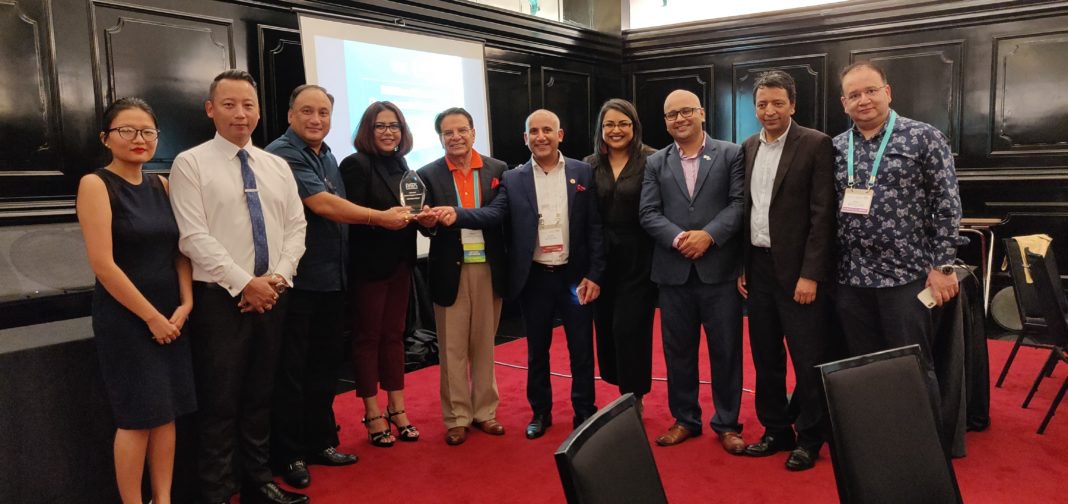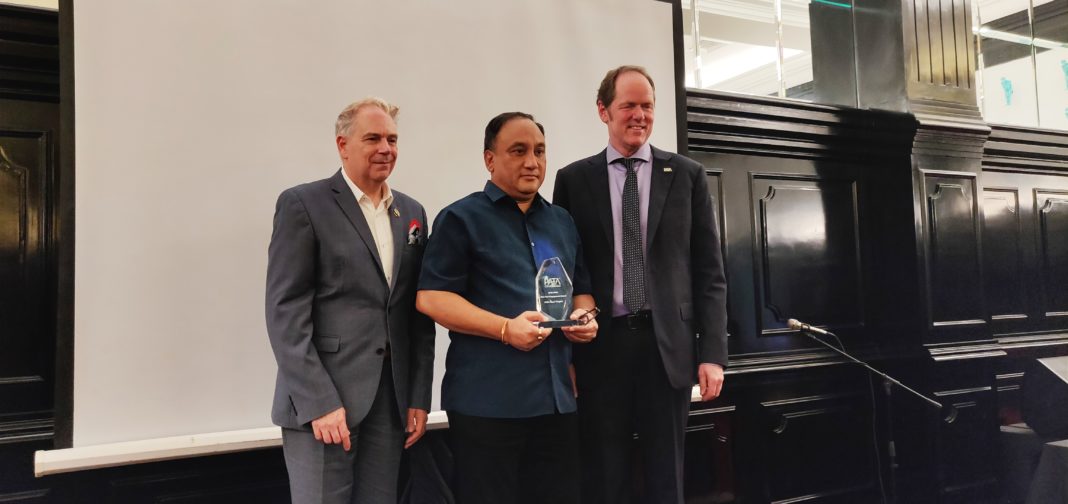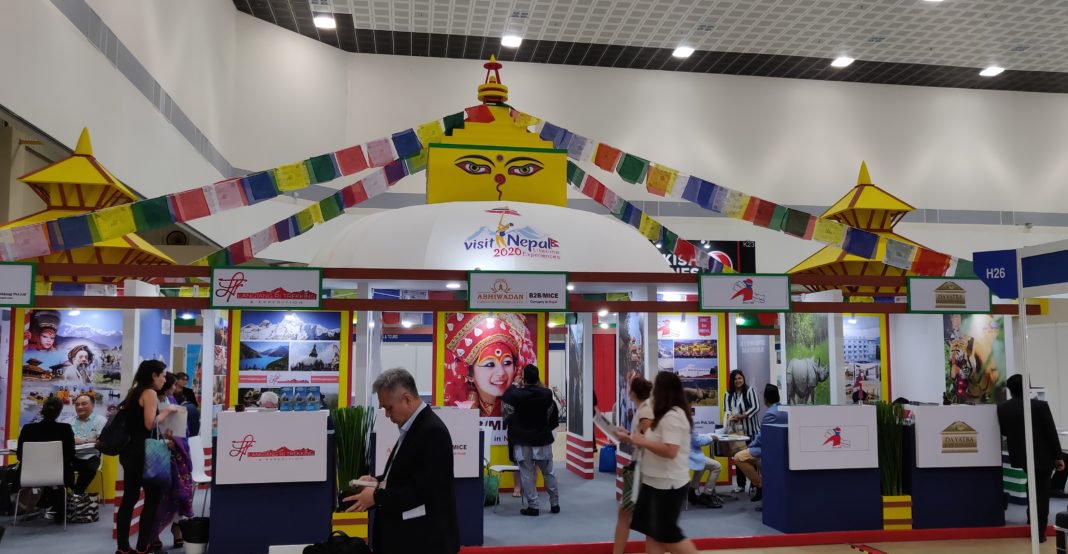 PATA rewarded Nepal Chapter Next Gen. Engagement Award
PATA Nepal Chapter received the PATA Next Gen. Engagement Award for the 2nd time on the trot in recognition of its efforts and engagement with the Next. Gens of Nepal's tourism industry.
Mr. Bibhuti Chand Thakur, General Secretary of PATA Nepal Chapter received the award during the PATA Board Dinner and Chapter Awards Presentation on 15th September. This Next Gen. Engagement Award is one of the prestigious acknowledgements by PATA to the Chapter that shows great dedication and contribution in engaging with the NextGen, to promote tourism industry among the young tourism professionals (YTPs).
Mr. Thakur expressed his thanks to all the young tourism professionals of Nepal for their continued efforts, dedication and invaluable support in carrying the mission of PATA for the sustainable development of tourism. He emphasized on the necessity of engaging youth for the responsible tourism development.
Mr. Suresh Singh Budal, CEO of PATA Nepal Chapter expressed that receiving the Best PATA Chapter Award on the "Next Gen. Engagement" category is a matter of pride for Nepal Chapter.
NTB sponsored Buyer Lounge to promote Visit Nepal Year 2020 in a massive way. More than 200 buyers attended the lounge for business meeting and enquired about ongoing promotion campaigns that Nepal is organizing.