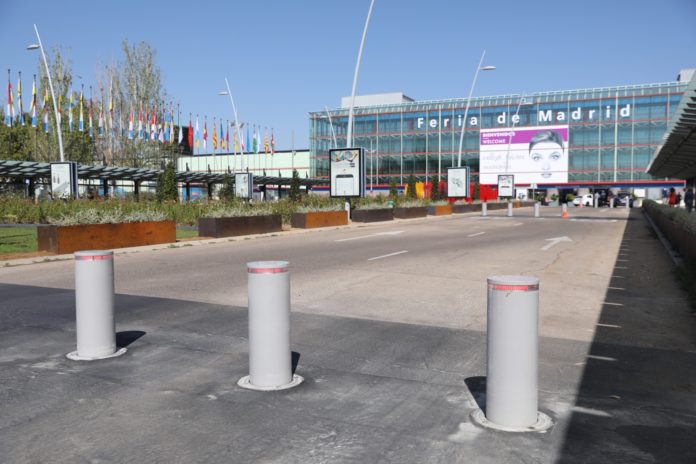 IFEMA upping high security systems for meetings venue
IFEMA has allocated €5 million as part of a 5-year global investment plan with an expected budget of €100 million to improve infrastructures, communications, digitalization, and security.
Throughout September, a new high-security system will be put into operation aimed at preventing the threat of the use of vehicles against the physical integrity of people inside the venue, as well as against the venue itself and the goods within it, through a system of protection devices designed using state-of-the-art barriers centrally integrated into IFEMA's security operations.
For both systems IFEMA has allocated a total of €5 million, as part of the global investment plan for 2018, which encompasses a total of €25 million. Over the next 5 years, IFEMA's Strategic Plan includes an expected investment of €100 million for the improvement and installation of infrastructures, communications, digitalization and security.
The access control system, capable of supporting more than 2,000 daily operations 24 hours a day, 365 days a year, includes a total of 92 bollards made of high-performance steel which are resistant to impacts from goods vehicles at high speed, in accordance with international standards. The bollards are fully mechanized and automated and deployed on two levels. The type of activation, which offers several possibilities, will depend on the situation and the vehicle in question, with special consideration to the security levels established by the Ministry of the Interior.
The system has been implemented at the four main entrances to IFEMA (South, North, East and West) where each year more than 700,000 vehicles enter, most of them public transport vehicles or heavy-duty vehicles used to transport goods to the more than 110 fairs and congresses held here.
To install the system, a total of 4.5 kilometers of fiber optic cabling has been used, since the entire system is supported using a ring of communications that continually sends information on the status of the system to the IFEMA Control and Video Surveillance Centre, where all of its security systems are integrated, and which are monitored 365 days a year.
[embedded content]
Public address system
At the same time, a comprehensive update of IFEMA's public address system is being carried out, both indoors (halls, convention centers, rooms, office and technical buildings, food areas, etc.) and outdoors (perimeter, entrances, public car parks, interior roads, loading docks, etc.). In addition to promotional messages and specific communications to exhibitors and visitors according to the needs of the site, it constitutes a new communication channel in the event of emergencies and guarantees complete effectiveness in any situation and whichever way the venue is being used.
The system is designed and implemented according to current national and international regulations and is linked to the controls of the voice alarm and indicator equipment and to the components of the voice alarm systems, thus perfecting the already powerful self-protection model implemented throughout the venue.
It includes 5,164 loudspeakers installed in internal spaces, common areas, offices and other spaces, and 472 speakers for the halls. In total it has 204 pieces of multichannel amplification equipment, 1,084 amplifiers including 1200W, 250W and 500W, and is capable of reaching sound power of 357,000 W.
When used as a voice evacuation system, the public address system is capable of emitting up to 52 simultaneous and different messages. When used as a public address system it offers a range of more than 100 zones for addressing messages, with automatic control of pre-recorded or programmed messages, and volume control according to occupancy level through 72 probe microphones. It also incorporates a text-to-speech system for converting text messages into multiple languages.