How to grow the 'conference and events' tourism market in Fiji?
Tourist arrivals in Fiji increased by 38.5% in the 10 years between 2005 and 2015, but a new brief from the Asian Development Bank (ADB) warns that continued tourism sector growth is not inevitable, and ensuring its sustainability will require government action.
Although Fiji has the most established and profitable tourism industry in the region, the brief, Tourism as a Driver of Growth in the Pacific: A Pathway to Growth and Prosperity for Pacific Island Countries, makes a number of recommendations to ensure the sector's growth does not stagnate.
The brief recommends the creation of a strategic plan that would draw on the existing range of major resorts to grow the 'meetings, incentives, conferences, and events' market. It also suggests Fiji's tourism sector could benefit from investments in key national infrastructure, such as improving the country's water supply and sewage treatment facilities.
The brief also recommends developing the waterfront in Suva's port area to make it more appealing and better suited to the needs of cruise ship visitors. Finally, it reiterates a proposal for consideration from an earlier World Bank report, saying Fiji has the potential to become a regional cruise ship base.
The brief identifies tourism as a unique opportunity for economic growth in the coming decade that could help Pacific island countries self-sufficiently fund national objectives, such as improved health services, education and transport. Along with generating employment and income growth across the region, tourism development can serve as a catalyst for the protection and preservation of natural and cultural assets, the brief notes.
Visitor numbers across six Pacific Island countries examined have increased by almost 50% in the past 10 years, but the brief's authors warn that continued tourism sector growth will not happen automatically, and that its benefits will continue to be unevenly distributed unless governments take action.
They recommend countries create an enabling environment to facilitate tourism growth and maximize its benefits. This means investing in infrastructure, human resources, and product development and marketing, as well as ensuring that tourism policy, strategy, and the regulatory environment are designed to grow the sector sustainably.
"While many Pacific countries are using tourism effectively to generate income and employment, opportunities exist to expand and increase its benefits and ensure its sustainability," said Rob Jauncey, Regional Advisor with ADB's Pacific Liaison and Coordination Office. "As Pacific countries develop and pursue strategies to grow their tourism sectors, ADB stands ready to offer insight and advice, and provide technical assistance, finance, or coordination support."
The brief was produced by ADB's Pacific Private Sector Development Initiative (PSDI), a regional technical assistance program undertaken in partnership with the governments of Australia and New Zealand. PSDI works with ADB's 14 Pacific developing member countries to improve the enabling environment for business and to support inclusive, private sector-led economic growth. It has operated in the region for 11 years and assisted with more than 300 reforms.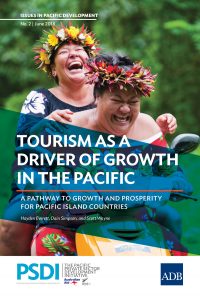 Tourism in the Pacific is increasing and will be a key driver of economic growth in the coming decade. Yet despite more visitors to the Pacific, tourism growth is not inevitable for all countries in the region.
This brief identifies the trends driving this increase. To secure and sustainably harness the benefits of this growth, this brief recommends that Pacific island countries create an enabling environment for tourism through interventions in four areas: tourism policy, strategy, and the regulatory environment; infrastructure; human resources; and product development and marketing.