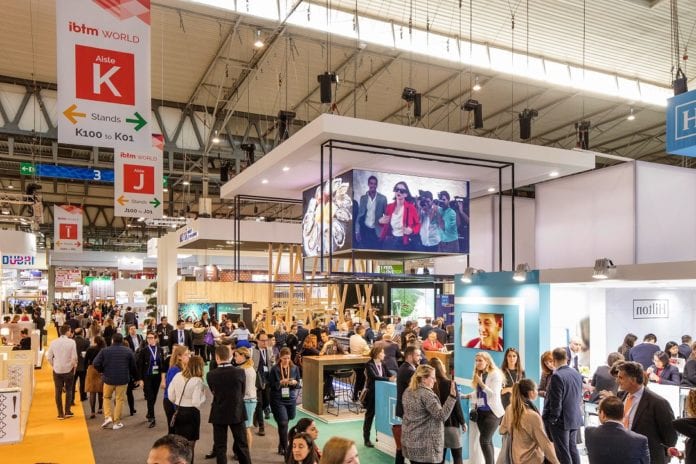 Hosted Buyer recruitment heats up for IBTM World 2018
The organizers of IBTM World 2018, which takes place at Fira Barcelona from 27-29 November, have announced strong Hosted Buyer recruitment for this year's edition, with an increase in first-time Hosted Buyers (up 5% this year to 48%) as well as Hosted Buyers from North America (up 5% year-on-year) and Asia (up 2% year-on-year).
So far buyers representing 72 countries have been confirmed, with delegates from globally renowned businesses including: SONY, Samsung Electronics, Química Montpellier, SC Johnson and Grant Thornton, PricewaterhouseCoopers (PwC), Metlife, Netflix, Provident Global Capital Group, Tech Data Corporation, The Wall Street Journal, Procter & Gamble (P&G) and State Oil Company of Azerbaijan.
Shane Hannam, Portfolio Director, IBTM, said: "Our enhanced Hosted Buyer programme, introduced for last year's event, resulted in us breaking our show record for the number of meetings that took place. We've been working hard to build on that success, taking insights and learnings from our own data and conversations with our customers as we created the programme for this year's event.
"Whilst buyers have different reasons for attending, we know that they are drawn to our event in large part because of our sophisticated appointment system and our extensive education programme, as well as the fact they have access to high quality networking events and the latest cutting-edge technology and services, all under one roof.
"We have a very strong international exhibitor mix this year, with several major organisations from Asia Pacific and North America either exhibiting for the first time or returning after a hiatus. The event offers a great opportunity for event planners to connect and do business with the very best suppliers the industry has to offer. We're looking forward to welcoming all buyers to this year's event."
To cater for customer demand for more hands-on interactive experiences, this year IBTM has introduced a new Exploratory Zone located at the centre of the event. This new experiential feature offers innovative ideas for enhancing customer experience with exhibitors showcasing the latest technologies and event solutions including virtual reality, artificial intelligence, facial recognition and 3D printing.
Buyers can also attend tailored education sessions in the Knowledge Programme, which this year been extended to include three keynote speakers from outside the industry who will lead a schedule of 55 sessions designed to enhance events expertise and keep attendees on the cutting-edge of industry trends. The three keynotes are Duncan Wardle, one of the primary creative forces behind The Walt Disney Company; Dex Torricke-Barton, former Head of Communications at SpaceX, Executive Communications Manager at Facebook and Executive at Google; and multi-award-winning millennial tech entrepreneur Charlotte Pearce.
Commenting on the benefits of attending IBTM World as a Hosted Buyer, Geetha Arekal, Head of procurement for Mobility Services, Siemens Ltd., said: "IBTM World is an unmissable event in the industry calendar. We've been so impressed with the high standards met every year by the team, providing us with a calendar of appointments that puts us in a position to make great connections, resulting in very good business."
New exhibitors confirmed for this year include Greater Boston Convention & Visitors Bureau, Tourism Promotions Board Philippines, Macau Trade and Investment Institute, Rosewood Hong Kong, Plus DMC, Regal Hotels International, San Francisco Travel Association, SIXT GmbH & Co, Global Passenger Network, Barbados Tourism Marketing Inc, Beijing Municipal Commission of Tourism, Development Hong Kong Tourism, Alternative Athens, Tourism New Zealand, Standard Hotels and creative technology company Codemodeon.
For more information on IBTM World 2018 visit ibtmworld.com.
eTN is a media partner for IBTM.