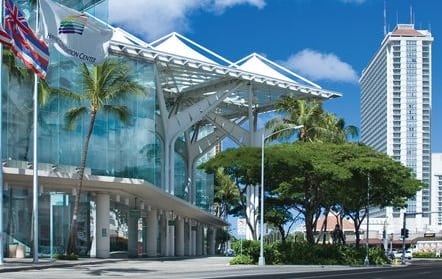 Hawaii Convention Center hosts Hawaii's Global Tourism Summit
Hawaii's Global Tourism Summit is taking place October 1-3 at the Hawaii Convention Center and everyone, who wants to have input in tourism's future, is encouraged to attend.
Presented by the Hawaii Tourism Authority, the annual Summit is a superb opportunity for anyone – regardless of whether they work in tourism or not – to better understand the benefits, challenges and impact of our largest industry, and how its success affects everyone's livelihood in Hawaii.
Thoughtful, in-depth discussions on the direction we collectively want to see tourism follow – both locally and globally – will be a focus throughout the Summit.
The importance of sustainable tourism, the significance of cultural tourism, and coping with tourism's evolving growth worldwide will be addressed. Marketing, innovation, technology, safety and security and how these diverse subjects factor into tourism's future will also be on the agenda. Plus, there will be lots of opportunities to network and collaborate on new business opportunities.
A special highlight on the opening day, October 1, will be the student debate competition and listening to teams of teens from Hawaii, the mainland and other countries articulate their views about the world of tourism they want to live in.
On the second day, October 2, attendees will enjoy the pau hana Aloha Reception, especially the delicious cuisine presented by up to 22 restaurants from around the state.
On October 3, the Summit concludes with the Tourism Legacy Awards Luncheon and the honoring of Ke Au Hawaii: the Year of the Hawaiian, featuring a special tribute to the language, culture and traditions of the Hawaiian people.
The event has secured the following excellent keynote speakers – Stephen England-Hall, chief executive of Tourism New Zealand, Chris Malone, managing partner of Fidelum Partners on the topic of "The HUMAN Brand," Michael Dominguez, senior vice president and chief sales officer for MGM Resorts International, and Susie Vowinkel, Google industry director for travel – who will inspire us to think how tourism can be improved for the benefit of residents, visitors and communities.
yahoo