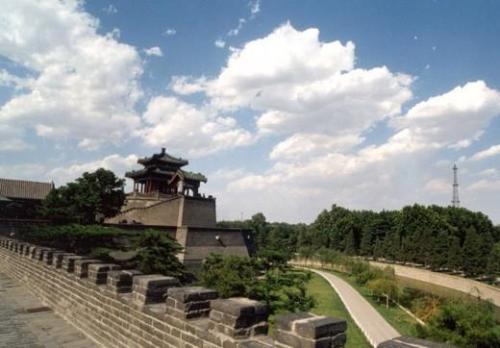 Ancient city in China hosts tourism conference
Organized by local governments, including the government of Yongnian District, local and national administrations of sports, and Wushu associations, the third Handan Tourism Industry Development Conference as well as the 14th International Tai Chi Sports Meeting convened in the ancient town of Handan City in the Yongnian District in Hebei Province in China.
Yongnian District and the rest of Handan City have boosted investment in recent years in developing cultural tourism led by three major projects of Guangfu Ancient Town, Mingzhou New Town, and the western mountainous region, each with distinct features.
Located in southern Hebei Province and northern Handan City, Yongnian is Handan's biggest district. With a cultural history of over 7,000 years, Yongnian was built more than 2,600 years ago. The district is home to 321 historical and cultural relics sites including six cultural relics units under the state protection such as the Neolithic Yangshao cultural relics. It is also blessed with 67 items of intangible cultural heritage with five of them including the Yang-style and Wu-style Tai Chi listed as national intangible cultural heritage items.
In the eastern part of the area, many historical buildings have been restored or reconstructed. The Guangfu scenic area has tall and beautiful buildings, while the Yongnian wetland presents a beautiful natural scenery. There are also a variety of scenic spots such as the ecological Baihua island and the folk culture museum. The central part of the area, with equal emphasis on governance and development, nurtures a wetland scenic spot in the waters of Minghu Lake.
In the western region, Foshan and Zhushan mountains run for miles. The Foshan Mountain scenic spot is the largest comprehensive scenic spot in the intersection of Shanxi, Henan and Henan provinces, featuring the first ski resort in southern Hebei, the Foshan Mountain Ski Resort. The Zhushan Mountain stone carving cultural park has the first cross-mountain glass suspension bridge in north China. A large number of ancient buildings in the Ming and Qing Dynasties are scattered in Zhangbian and Wangbian ancient villages. Via protection and restoration, the region becomes a unique rural tourism scenic spot for travel, leisure, vacation and entertainment.
To enrich Yongnian's tourism culture, a series of events and contests will run through the four-day Tai Chi sporting meeting and conference, including ten entertainment and sports shows and 23 interactive Tai Chi performances.
The two events in the ancient city ran from September 26 to September 29.