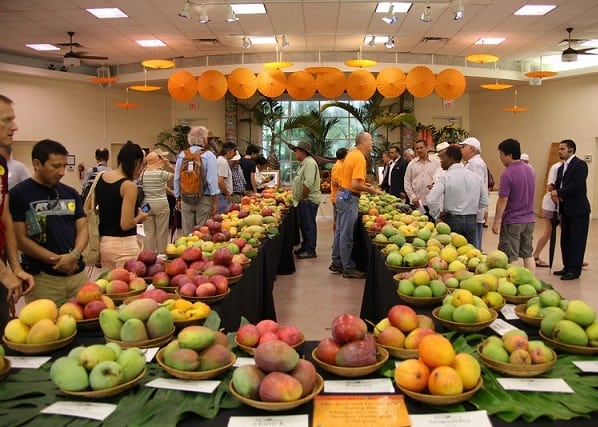 30th Mango Festival coming to New Delhi
The 30th International Mango Festival will be held in New Delhi at the Dilli Haat, Janakpuri, from July 6 to July 8.
The event is organized by the Delhi Tourism and Transportation Development Corporation (DTTDC) in collaboration with the Agricultural and Processed Food Products Export Development Authority, the National Horticultural Board and the New Delhi Municipal Council, and it has become a major draw for tourists and locals alike. As in recent past years, the festival was held in the Talkatora Indoor Stadium.
India is home to hundreds of varities of mango, many of which are displayed and sold at the festival.
Other attractions include mango eating contests, mango quiz, competitions for children and cultural programs.
The International Mango Festival, held annually in Delhi, India during early summer, is a two-day festival showcasing mangoes. It has been held since 1987.
A tourism official explained:
More than 50 mango growers from across the country, mainly from Uttar Pradesh, Bihar, Gujarat and Delhi, were given an interactive platform to present the 'king of fruits' […] The visitors, who normally think mango has just five or six varieties, were educated through quizzes and competitions about the huge variety of the fruit grown and innumerable possibilities of using mango in cuisine. They also enjoyed colorful entertainment programs of music and dance. […] It is an informal and international platform with a two-fold approach, to promote tourism as well as mango export.
More than 550 varieties and cultivars of mango are featured in the festival for visitors to view and taste. Among these are alphonso, mallika, amrapali, himsagar, malda, balia, chorasya, dhaman, dhoon, fazia, gelchia, nigarin kheria, ruchika and shamasi. Notable chefs from five star hotels like the Maurya Sheraton, Taj Mahal Palace & Tower, Inter-Continental Hotel, Marriott India, Qutub Hotel and Claridges around India demonstrate the preparation of assorted recipes made with mango.
The festival is also an opportunity for agro-industries and food industries processing mangoes into jams, pickles, fruit juice and canned fruit to display their products.
yahoo